Tangkoko - Tomohon Birding Trip
by Sultan Birding Tours Indonesia
Join us for Tangkoko and Tomohon Birding,
Sulawesi endemik, Birding Tangkoko and Tomohon
We will be more than happy to help you planning
your birdwatching to Tangkoko & Tomohon in North Sulawesi
Sulawesi's Kingfisher relies on insects as well as fish and a few crabs to fill their platter. Darting with laser-like speed, they often leave no more than a blurred impression of shimmering blues, greens, and purples as they dive for a grasshopper or perhaps a small fish. Eleven species of Kingfishers have been recorded on Sulawesi and five of these are restricted to the island. Sulawesi's kingfishers provide a textbook example of how several species with similar needs partition the environment. Great-Billed Kingfisher, Halcyon melanorhynca is primarily a coastal inhabitant, plying the beaches and streams for small fish while the Scaly-breasted Kingfisher, Actenoides Princeps, prefers montane forests and unobtrusively forages in the lower canopy for insects. Several species including the tiny, Sulawesi Dwarf Kingfisher, Ceyx fallax, the Green-backed Kingfisher. Actinoides monachus, and the Sulawesi Lilac-cheeked Kingfisher, Cittura cyanotis, overlap in the lowland forest. Here, the habitat is partitioned vertically, with species differing in perch and foraging height.
Tomohon Gunung Mahawu  & Tangkoko  6 Days / 5 Nights
The price is us$ .. per person ( Min. 4 – 6 Persons)
Price included: English Speaking Bird Guide, Mineral water, Meals (breakfast, lunch, and dinner in Tangkoko hill cottages), accommodation for two nights at Jhoanie Hotel/Grand Master Hotel Tomohon or similar, Tree nights at Tangkoko Hill Cottages, Entrances to Parks and Reserves, Local Bird guide, birding site fee, Private birding car
Price not included: Lunch, Dinner during in Tomohon, Camera porter, Insurance, Alcoholic Beverages, Airfare, Laundry, Tips, All personal expenses that are not mentioned on the items above, Any kind of expenditures incurred due to flight cancellation/delays or due to other causes beyond our control.
Kindly please book in advance to ensure availability and please send us an email
Tomohon  Gunung Mahawuand Tangkoko Park Birding Itinerary
Day 1: Manado Arrival – Tomohon
After your arrival at Manado airport Sulawesi, you will be transferred by car to Tomohon takes 60 minutes to reach the Gardenia Inn where we will stay for 2 nights. Lunch & Diner Not Included.
Day 2: Gunung Mahawu is a forested Volcano (1490 meters above sea level),
Inside the crater is a steaming, emerald-green lake ringed with yellow sulfur deposits. From the summit, you can see neighboring Mount Lokon with its ever-present plume of smoke. On a clear day, you can also see both the Sulawesi Sea on the west and to the Maluku sea to the east, GunungMahawu is located near the village of Rurukan where Sir Alfred Wallace lived for a while. Now GunungMahawu is one of the Important Bird and Biodiversity Areas ( IBAs ) in Asia by BirdLife International. In this birding place, we have some interesting Sulawesi endemic species, It is one of the easiest and most reliable sites in Sulawesi for the Scaly-breasted kingfisher- Actenoidesprinceps but please note this star bird of Sulawesi is very skittish and always hide so to spot them still need luck. Bird species at GunungMahawu and Tomohon; Sulawesi Pitta, Scaly-breasted kingfisher, Lilac-cheeked kingfisher, Green-backed Kingfisher, Blue-eared Kingfisher, Collared Kingfisher, Sulawesi scops owl, Speckled boobook, Ochre-bellied boobook, Sulawesi babbler, Chestnut-backed Bush-Warbler, Sulawesi Blue-Flycatcher (split from Mangrove Blue-Flycatcher), the rare Rufous-throated Flycatcher, Pale-blue Monarch (split from Black-naped Monarch), Isabelline-bush hen, Barred rail, White-browed Crake, Sulawesi Myzomela, Island Flycatcher, Citrine Flycatcher, Grey-sided Flowerpecker, Yellow-sided Flowerpecker, Crimson-crowned Flowerpecker, Black-fronted White-eye, Mountain white-eye, Streak-headed Dark-eye, Mountain Tailorbird, Purple-winged Roller, Yellow-vented Whistler, Crimson Sunbird, Black Sunbird, Olive-back sunbird, Sooty-headed bulbul, Hair crested drongo, Yellow-billed Malkoha, Ashy Woodpecker, Sulawesi pygmy Woodpecker, Grey Wagtail, Yellow Wagtail, Chestnut Munia, Scaly-breasted munia, Rusty-breasted Cuckoo, Brown-cuckoo dove, superb-fruit dove, Sulawesi black-Pigeon, Sulawesi-hanging parrot, Black Eagle, Black Kite, Osprey, Spotted Kestrel, Peregrine Falcon. During our stay here also we have a great chance of finding Purple swamphen, White-browed crake, White-breasted waterhen, Common Moorhen, Javan pond heron on the Lake Tondano. Not include Lunch and Dinner
Day 3: Tomohon – Tangkoko
Days 4 – 5: Tangkoko Nature Reserve
This reserve on the eastern tip of the Minahassa Peninsula is one of Sulawesi's flagship parks, the excellent lowland jungle and mangrove forest providing superb birding site, The reserve is especially famous for kingfishers, having no less than eight resident species, of which four are endemic but remember that Tangkoko also has much more to offer than its kingfisher though and with the assistance of the skilled our local team, we will be search for Lilac cheeked kingfisher, Green-backed kingfisher, Sulawesi-dwarf kingfisher, Great-billed kingfisher, Red-bellied Pitta, Rudy kingfisher, Common kingfisher, Blue-eared kingfisher, collared kingfisher, Red-Knobbed Hornbill, Sulawesi dwarf Hornbill, Ochre-bellied boobook, Yellow-billed Malkoha, Bay Coucal, Lesser coucal, Sulawesi-Hawk eagle, Sulawesi serpent eagle, Black eagle, Black kite, Sulawesi cicada bird, Rusty-breasted cuckko, Sulawesi triller, Purple-winged roller, Ashy woodpecker, Sulawesi woodpecker, Sulawesi hanging parrot, Ornate lorikeet, Golden-mantled Racquetail, Blue-backed parrot, Grey-cheeked Green Pigeon, Black-naped Fruit dove, Green Imperial Pigeon, Grey-headed Imperial Pigeon, White-bellied Imperial Pigeon, Silver-tipped Imperial Pigeon, Sulawesi Black Pigeon, Stephan's Dove, Brown-cuckoo dove, PhilipineScrubfowl, Barred rail, Isabeline Bush hen. During our boat trip to the mangrove we may find other species; White-rumped Cuckoo-shrike, Common kingfisher, Great-billed kingfisher, Pink-necked green Pigeon, Osprey, Great Frigatebirds, Lesser frigatebirds, Pacific reef egret, common dollar bird, Striated heron, Little tern, Sacred and Collared Kingfisher, White-bellied Sea eagle, Brahminy kite and Purple heron. After spending much of the day birding but we have time also to see interesting mammals such as Black-macacanigra, Tarsier spectrum, and bear cuscus in Tangkoko Park. Includes breakfast, lunch, and dinner
Day 6: Tangkoko – Manado Airport
Morning birding around JAM hill and at 10 AM transfer by car to Manado airport.End
Important NOTE:
This trip can be extended to Halmahera for Ivory-breasted Pitta, Wallace's standard winged bird of Paradise, Common Paradise Kingfisher, Sombre Kingfisher, Beach Kingfisher, Variable Dwarf Kingfisher, Azure Kingfisher, and Blue & White Kingfisher.
Payment Term and Condition
We require a minimum of 50% deposit payment to confirm your booking, we cannot guarantee your booking until this has been received. Bookings will be held for 7 days to allow the client time to send a deposit payment. We reserve the right to release the booking if the deposit is not received within 7 days of the booking being made. Changes of dates to bookings after the deposit has been made can be done but will be subject to availability.
Cancelation: Deposit payment No Refund, No show – full payment charge.
Full Payment, The full payment will be required at least 30 days prior to your date of arrival. The invoice amount has to be paid in full, net of all transfer costs and bank charges.
TYPE OF LAND TRANSPORTATION & ROAD
We will use a minibus or cars. The road is some part in good condition and some part in bad condition. While for the mangrove boat trip we will use a small boat.
BIRD GUIDE
This trip will be provided with an English speaking bird guide during the whole trip and a local guide (who owns/guard the land) for each place in Tangkoko and Gunung Mahawu
WALKING CONDITION
The walking ranges from easy to moderate, but there will be one hard in Tangkoko.
CLIMATE
Most days in the lowlands will be hot and humid for much of Sulawesi, with a chance of heavy, tropical, some rains at any time. Cool in the mountains in Gunung Mahawu Tomohon.
INFO TRAVEL REQUIREMENTS
A valid passport is required; the passport must be valid for at least six months past your intended stay. Visas on arrival in Indonesia can be obtained for tourists from the US, Canada, UK, Australia, New Zealand, South Africa, and EU countries for stays of under 30 days. There is a fee for this, payable in cash (in US Dollars). Travel requirements are subject to change; we recommend double-checking entry requirements six weeks prior to the tour or ask our office staff for help.
LIABILITY
Sultan Birding Tours Indonesia act only as agents for the passenger in regard to travel, whether by railroad, motorcar, motor coach, boat, or airplane, and assume no liability for injury, damage, loss, accident, delay, or irregularity which may be occasioned either by reason of defect in any vehicle or for any reason whatsoever or through the acts or default of any company or person engaged in conveying the passenger or in carrying out the arrangements of the tour. Sultan Birding Tours Indonesia can accept no responsibility for losses or additional expenses due to delay or changes in air or other services, sickness, weather, strike, war, quarantine, or other causes. All such losses or expenses will have to be borne by the passenger, as tour rates provide for arrangements only for the time stated. Baggage is at the owner's risk entirely. The airlines concerned and their agents and affiliates are not to be held responsible for any act, omission, or event during the time passengers are not on board their aircraft.
Sulawesi's Kingfisher relies on insects as well as fish and a few crabs to fill their platter. Darting with laser-like speed, they often leave no more than a blurred impression of shimmering blues, greens, and purples as they dive for a grasshopper or perhaps a small fish. Eleven species of Kingfishers have been recorded on Sulawesi and five of these are restricted to the island. Sulawesi's kingfishers provide a textbook example of how several species with similar needs partition the environment. Great-Billed Kingfisher, Halcyon melanorhynca is primarily a coastal inhabitant, plying the beaches and streams for small fish while the Scaly-breasted Kingfisher, Actenoides Princeps, prefers montane forests and unobtrusively forages in the lower canopy for insects. Several species including the tiny, Sulawesi Dwarf Kingfisher, Ceyx fallax, the Green-backed Kingfisher. Actinoides monachus, and the Sulawesi Lilac-cheeked Kingfisher, Cittura cyanotis, overlap in the lowland forest. Here, the habitat is partitioned vertically, with species differing in perch and foraging height.
My wife and I decided to visit Sulawesi for the first time over Lunar New Year and asked Monal to arrange the trip. We arrived on a Friday early afternoon and left on the following Wednesday afternoon, so we limited our activities to Gunung Mahawu and Tangkoko. From the moment he met us outside arrivals until he dropped us off for departures, Monal took care of everything – all the mechanics as well as finding the birds. Both places we stayed were excellent and both provided good bird sightings in different ways: the Gardenia Hotel has extensive grounds including trees, lawns, flowering plants, and ponds that attract many species including Barred Rails, Sahel Sunbirds, and Myzomelas. The Tangkoko Hill Cottage had a Chinese Sparrowhawk hunting in the early morning, as well as views of Grosbeak Mynas, Sulawesi Pygmy Woodpeckers, Drongos, and overflying Channel-Billed Cuckoos. The vehicles were comfortable and well-driven. The food was excellent and plentiful. Monal is very aware of what his clients want: which birds, the balance between birding and photography, and their speed and agility (or lack of). He constantly optimizes the plan and uses a set of helpers, sherpas, and guides to carry food and chairs, locate birds and help his guests. As a result, we saw many of the birds we wanted to see, even though conditions were not ideal and there have not been enough visitors to get back to normal following Covid. We saw over 80 species in our four and a half days, of which over half were endemic to Sulawesi and its islands. These included the endemics of Sulawesi Pitta and Scaly Kingfisher, as well as the normal Lilac and Green-Backed KFs, Sulawesi Bush Hen, White-Rumped Cuckoo-Shrike, Silver-Tipped and White-Bellied Imperial Pigeons, Superb Fruit Doves and both Cuckoo-Doves, Knobbed and Dwarf Hornbills, Minehasa Racket-Tail, Ashy Woodpecker, Philippine Scrubfowl, the endemic Malkoha, Brush Cuckoo, two White-Eyes, Drongo, Whistler, Great Hanging Parrot, Blue Flycatcher, three Flowerpeckers, Myzomela, Pale Blue Monarch, and several others. Monal was so disappointed that we had failed to see the Great-Billed KF on our trip into the mangroves that he insisted on scheduling an additional early-morning trip before taking us to the airport and it was successful! We were also lucky to see a Javan Plover, a rare species in this area.
We cannot think of anything Monal could have done better to improve our visit. He is meticulous in planning, friendly, energetic, and solution-oriented – he found a way of binding up Kim's shoe when the sole was detaching, then personally spent an hour round trip on a motorbike to get it re-glued and sewn at a reliable shop. He's always trying to improve your experience – listening for the next bird while you are scoping this one, moving you several yards to obtain a better angle for a picture, recommending a fish dish for lunch, changing plans on the fly to accommodate the weather and focusing on the areas most likely to yield the species you want.
Thank you Monal for an excellent trip and we will be back to see other parts of Sulawesi with you, and maybe Papua."
email: steelhead20@gmail.com
email: giantechidna@gmail.com
Tangkoko Nature Reserve
Day 330: Earthquake!
A little volcanic shakin' going on.
November 26, 2015: Tangkoko, Sulawesi — I woke at 3 this morning to the sound of something falling on the ground and with the distinct, unsteady feeling that my bed was vibrating. The shaking stopped in a few seconds and, after wondering sleepily what had just happened, I returned to my dreams.
An hour and a half later, I asked Monal at breakfast if he'd felt anything during the night. "Yes, I woke up too," he said. "That was an earthquake. We get them all the time. There are 11 active volcanoes in this area!"
It might have been a tiny one, but I was excited. My first-ever real, live earthquake! I've managed to avoid even the slightest tremor during my entire 29 years on this planet thus far (we don't get them much in Oregon), so I was stoked to get shaken up this morning.
Then I remembered something else. "Hey, happy Thanksgiving!" I said to Monal.
He looked blank. "Huh?"
At 5 o'clock this morning, I found myself explaining the traditions of Thanksgiving, with Halloween thrown in for good measure, to an Indonesian audience. Both holidays began to sound pretty weird the more I described them (Black Friday… Jack-o-Lanterns…). Which brings up an interesting point: Is it still Thanksgiving if you're in a place that doesn't celebrate it, and if it's not actually Thanksgiving yet (because of the time difference) in the U.S.?
In the past few years, I've spent three Thanksgiving in Antarctica, one in the Galapagos, and one in Amazonian Ecuador, so this one had a lot to live up to. I needn't have worried. It was yet another fantastic day in the field.
The highlight came this afternoon when Monal and I boarded an outrigger canoe, a new form of transportation for me, which was piloted by two men from the local fishing village. We launched straight off the beach, crossed a bay in the sunshine, and meandered up a twisty channel into a mangrove forest at high tide. This was the realm of the Great-billed Kingfisher, a sulky Sulawesi endemic, and Monal was on high alert for this special bird.
He spotted it soon enough, perched on a mangrove branch overhanging the water. We admired the kingfisher, turned around, and floated back out to sea, where Lesser Frigatebirds wheeled overhead and Pacific Reef-Egrets dotted the rocks under the watchful eye of a White-bellied Sea-Eagle.
I have many things to be thankful for, from a supportive family to the wonderful community of birders around the world who have helped at every step of this year's adventure. My dinner today included whole-fried fish, rice, and veggies. I'll save the cranberry sauce and pumpkin pie for next year—meanwhile, Happy Thanksgiving, everyone!
Day 331: The Tiniest Primate
Noah comes face to face with a tarsier monkey, the littlest primate on Earth.

November 27, 2015: Minahasa, Sulawesi — A local guide named Anes spent five hours this morning with Monal and me, tramping around in big circles inside the TangkokoBatuangas Forest. It was dry enough that leaves crunched underfoot; part of the forest had burned last month in a large wildfire. Even so, the humidity was unrelenting. I dripped sweat standing still.
We were hoping to bump into a type of owl called the Ochre-bellied Boobook, which is often found inside this forest, and we had some brief excitement when an owl materialized at midday. Unfortunately, we saw it too well, and the owl turned out to be a lookalike Speckled Boobook, which Monal and I had already seen a couple of days ago.
We did see several Green-backed Kingfishers, a Sulawesi Dwarf-Kingfisher, and a couple of Lilac-cheeked Kingfishers, none of them near water. The tramping continued until today's heat kicked in, and we let the Ochre-bellied go before lunch.
This part of north Sulawesi has a classic tropical coastline and Indonesian fishing culture. It's fun to explore an island that, before this year, I'd barely even heard of except in birding terms. Sulawesi, in general, isn't a big tourist destination (several times this week, locals have come up to ask if they could take a photo with me), but it's an interesting place. I saw two fun primates in the Tangkoko forest along with today's birds: A tarsier (the world's smallest primate) and the black macaque, which has no tail. Both very strange looking.
Noah Keefer Strycker (born February 9, 1986) is an American birdwatcher. In 2015, he set a record for a worldwide Big Year of birding, seeing 6,042 of the world's estimated 10,400 bird species in a continuous journey spanning all seven continents from January 1 to December 31, 2015.
Thanks a lot to Ben Quek for arranging this photography trip to Tangkoko Nature Reserve and Gunung Mahawu Reserve in North Sulawesi Indonesia. Also thanks for the nice company of Lim Ser Chai and Arman AF. And of course to our Guide Monal Capellone and his company for such a wonderful arrangement and great photography activities. To start the ball rolling, let me share this Sulawesi Hanging Parrot.
Spend six-day in Tangkoko and Tomohon, North Sulawesi, Indonesia, searching for Kingfishers but got a bag full with others including Endemics. Accompanied by fellow Dark Siders, Rey Aguila, Lim Ser Chai, and Arman AF, lead by Mr. Monal Capellone and his staff from Sultan Birding Indonesia, we had a wonderful trip filled with laughter, excitement, and surprises. Once again, thank you Mr. Monal for the hospitality and friendship. psst- a sneak preview of my Kingfisher collection in Indonesia
Thank you to all the senior guys who were here before me, who shared their trip details and photos of this wonderful place for the rest of us to explore. The trip was a really good exposure for me to learn from the seniors not only in terms of taking photographs but also the physical/mental endurance, patience, and motivation that they had kindly extended to me. I don't have much bird and overseas photography exposure as the rest of the guys but to experience meeting the endemic animals and able to watch and take photos of them is just awesome. This trip alone had exposed me to owl night shoot, shooting from boat rides, walking through the nature reserve with all the torn twigs/trees, climbing up/down steep slippery hills, and of course the waiting game of …waiting and waiting…and hoping …and waiting for the bird(s) to appear …and to appear at the right perch with the right background with the right lighting.
The trip also exposed me to other nature adventure experiences that were not within my control that make this trip even more challenging, exciting, and 'exciting'. It's definitely a trip that forced me to go beyond my comfort zone. Let me say a big, "THANK YOU!!!" to Ben Quek, Rey Aguila, Lim Ser Chai for making the trip a memorable and wonderful one. I really enjoyed it very much. It's a great place to see endemic birds and also a great adventure. We could not have had this great experience without having a great guide lead by Monal Capellone and his team.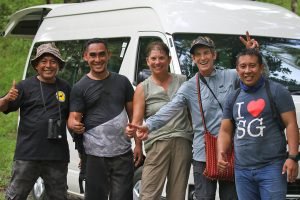 Join us for Tangkoko Tomohon Birding, Best of Sulawesi's Endemic Kingfishers including Lilac cheeked Kingfisher, Green-backed Kingfisher, Sulawesi Dwarf Kingfisher, Great-billed Kingfisher, Ruddy Kingfisher, Sacred Kingfisher, Blue-eared Kingfisher, Common Kingfisher, and Scaly-breasted Kingfisher and of course other Sulawesi's bird species to go for.
Sultan Birding the first local birding tour operator in Sulawesi who most involved in employing local people through the Tangkoko Tomohon birding industry and has an impact on the local benefit of Tangkoko Nature Reserve and Tomohon highlands. Our company has a strong nature conservation ethic and provides environmental education and benefits to local communities.
Arriving in the early evening at Jakarta airport on Dec 13, part of our group sat waiting for our flight to Manado, Sulawesi. After an uneventful flight, we were met by Monal, our excellent local guide, and settled in for the night at the Novotel Hotel just 10 minutes from the airport. A late text indicated that the rest of the group would be late arriving the next day.

The next morning, several of us explored the hotel grounds and independently got several good species including the beautiful Buff-banded Rail. After breakfast, we departed for Tongkoko National Park – our destination for the next three nights. Approaching the NP we got our first views of both endemic hornbills; Red-knobbed and Sulawesi Dwarf, silver-tipped Imperial Pigeon, Gray-cheeked Green-Pigeon, distant glimpses of Golden-mantled Racquet-tails, endemic White-necked and Finch-billed Mynas, several Barred Rails, and the beautiful Purple-winged Roller among others. In the late afternoon, we walked farther into the park and picked up additional species including Sulawesi Hawk-Eagle, Sulawesi Hanging-Parrot, Slender-billed Crow, great views of Yellow-billed Malkoha, Sulawesi Black Pigeon (White-faced Cuckoo-Dove), Isabelline Bush-hen, and Sulawesi Babbler. Late that evening the rest of the group joined us!

The 15th was spent exploring Tongkoko. Hiking deep into the park we got crippling views of three of the five endemic kingfishers: the Sulawesi Dwarf, Lilac, and Green-backed Kingfishers. Wow! Just before leaving the road/trail we also got a Black-naped Fruit-Dove, Ornate Lorikeet, and a pair of the immense Ashy Woodpecker. We also got a pair of Tabon Scrub-fowl, Ruddy Kingfisher, and 2 beautiful endemic Rusty-backed Thrush. In the afternoon a wonderful slow boat ride into the mangroves rewarded us with Great-billed Heron (on the beach), Gray-tailed Tattler, Pacific Reef-Egret, White-rumped Cuckooshrike, and crippling views of the endemic Great-billed Kingfisher.
The next day saw us return to the NP and we were rewarded with great scoped views of Vinous-breasted Sparrowhawk, Sulawesi (Red-bellied) Pitta, Pale-blue Monarch, and two endemic owls; Sulawesi Scops-Owl and the amazing Ochre-bellied Boobook. After 3 pm we again returned to the NP and got Bay Coucal, two Isabelline Bush-hens that most of the group managed to see, 100s of Gray-rumped Treeswifts flying along the beach, and both Great Eared Nightjar and Sulawesi Nightjar. The latter was heard only.

On Dec 17 we departed the Tongkoko area, but not before a stop above the reserve to get some birds Green-backed Kingfisher, Tangkoko NP, North Sulawesifor the late arrivals (Ron, Terry, and Kay). We got the three Imperial-Pigeon species, and both hornbills and much, much more. We also got our last possible Myna in the area – Sulawesi Crested Myna. A Sulawesi Streaked Flycatcher (just new to science) was sitting atop a close tree and Black-fronted White-eye, Sulawesi Woodpecker, distant views of two Ivory-backed Woodswallows and a Sulawesi Triller added to make a great morning. From there it was onto Lake Tomohon. At the lake and roadside rice paddies, we got Wandering Whistling-duck, Chestnut Munia, Javan Pond-Heron, Yellow Bittern, Dusky Moorhen, and the lovely White-browed Crake.

The next morning, Dec 18, found us up and early in the higher elevation forests on Mahawu Mountain where we got Sulawesi Myzomela, Yellow-sided, and Sulawesi (Crimson-crowned) Flowerpeckers (all endemic), Superb Fruit-Dove, Speckled Boobook, Black-faced Munias, Collared Kingfisher and several Gray Wagtails.
Just Checked into Peninsular Hotel in Manado and I had to make a detour to have lunch at Pizza Hut with Monal Capellone's family because My birding trip in Manado has officially ended today. Georgina Chin has taken the SilkAir flight back to Singapore. Monal's team took really good care of us. They are very professional and yet serviced also with an impressive unique personal touch. Very very enjoyable trip despite the rainy season. Heartfelt thanks to Monal, Maman, and Alex who helped me with my camera and tripod when in the forest, and also for finding us so many birds I never thought I would see in person. Many thanks too to Chen Dexiang and KhngEuMeng for loaning me their leech socks on last-minute notice… I found out there are no leeches in the forests in Tangkoko, but the socks did keep other scary insects off. 🙂