Arfak Birding - Papua
by Sultan Birding Tours Indonesia
Arfak Birding Tour 
Specialist birds of Arfak Mountains
West Papua of Indonesia
Arfak,  at what is arguably the premier birding site on this side of Papua Barat (West Papua), This part of the island has a rich set of endemics all its own, plus a huge variety of widespread forest species. five nights will be spent at a Lodge manage by SultanBirding at an elevation of 5250ft/1600m, and we will bird a range of elevations above and below here. We will spend five full days birding the various forests, gardens, and other secondary habitats that flank the mountains and hold many of the tour's standout birds. We will visit the display grounds of Magnificent Bird-of-Paradise, Vogelkop Lophorina (Superb BoP), Western Parotia, and the bower of the Vogelkop Bowerbird, one of the great architects of the bird world, with an extraordinarily large and decorative bower that far outshines the dour bird itself!  If we are extremely lucky we might catch up with Masked Bowerbird, Vulturine Parrot, or the New Guinea Harpy Eagle.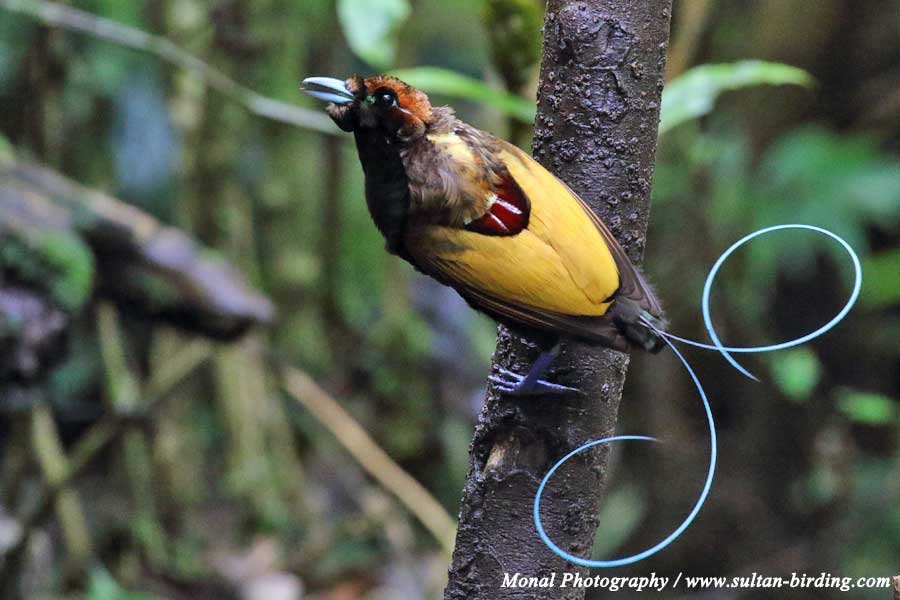 Male of The Magnificent bird of paradise
Endemic to New Guinea. Inhabits in lowland and hill rainforest, swamp-forest, second growth, disturbed areas, and montane Casuarinagroves at up to 1550 m. Size 32 – 33 cm (excluding tail wires). Keeps to middle and upper stages. Usually seen singly or in loose flocks at fruiting trees. Leks may have five to six adult males and half a dozen female-plumaged birds.
Westen Parotia
Endemic to West Papua. Found in Vogelkop and Wandammen Peninsula. Inhibiting in mid-montane forests and old second growth at 1100 – 1900 m. Size 30 – 33 cm. Usually seen singly, but small groups at fruiting trees. Joined mixed flocks. Male almost entirely black, with erectile triangular silvery-white frontal chest, broad iridescent purple nuchal bar, and crown iridescent coppery bronze.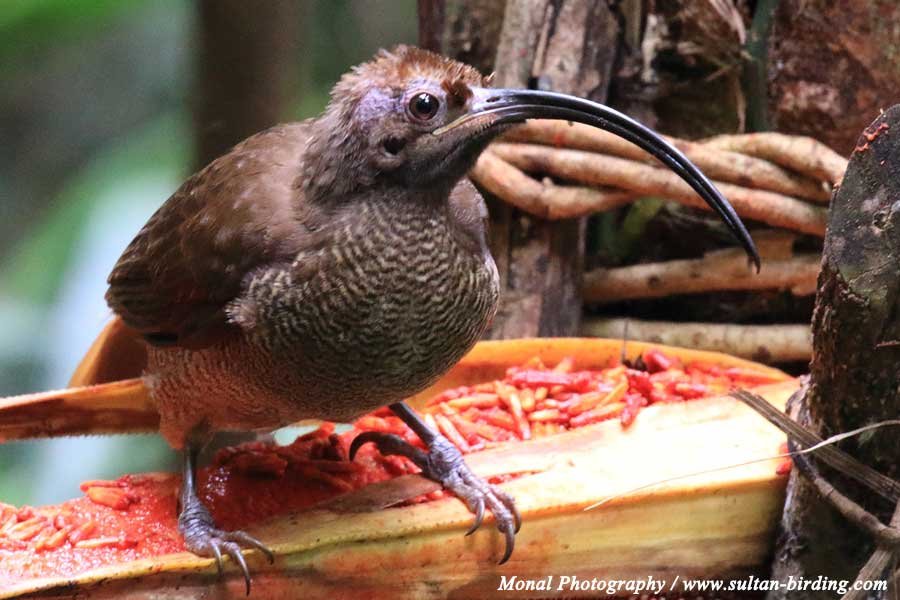 Black-billed Sicklebill
Black-billed Sicklebill found in Arfak, Foto by Monal / Sultan Birding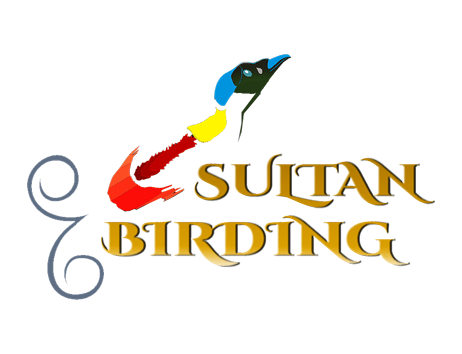 arfak birding
Enjoy the colorful bird's photos of Arfak Mountain known as Vogelkop Endemics, taken during our Arfak Birding Trip, Arfak Bird Photography Trip, Arfak Birdwatching Trip by Sultan Birding Indonesia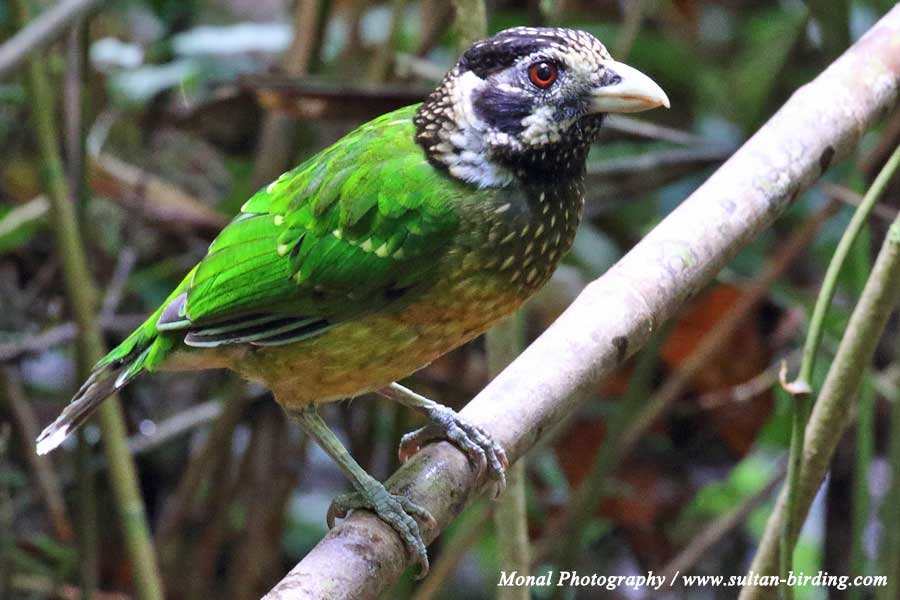 Arfak Catbird
Arfak Catbird, Foto by Monal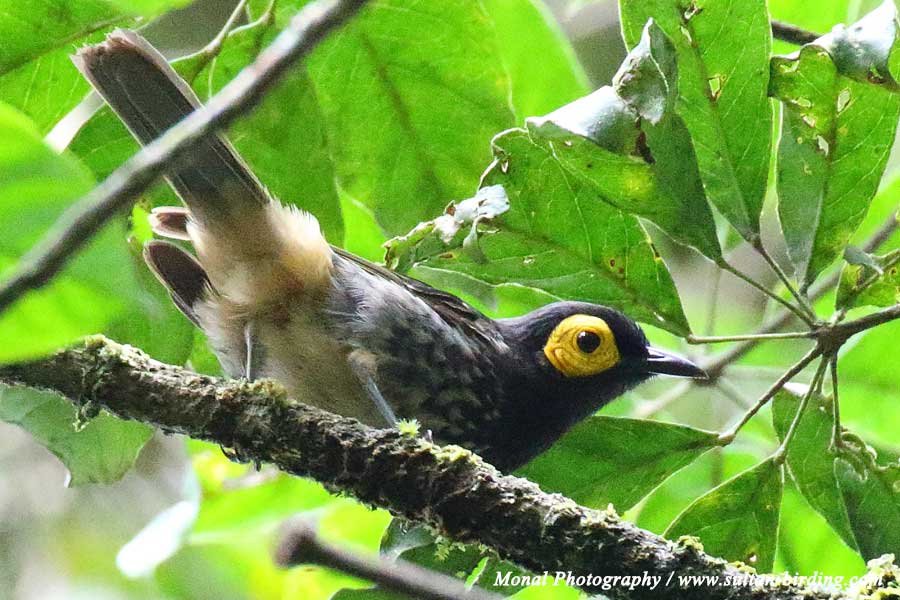 Arfak Honey-Eater
Arfak Honey-Eater, Foto by Monal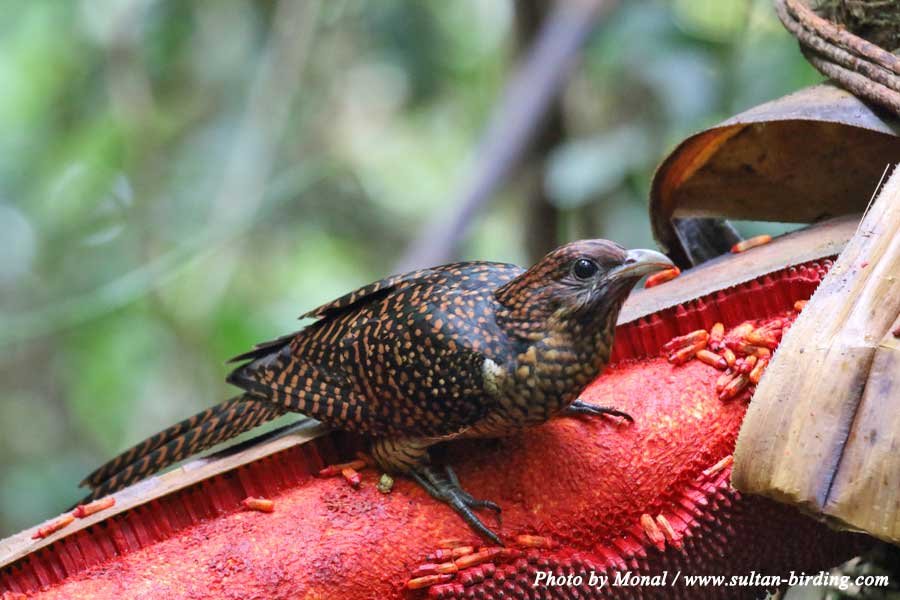 Estern Koel - Female
Eastern Koel, foto by Monal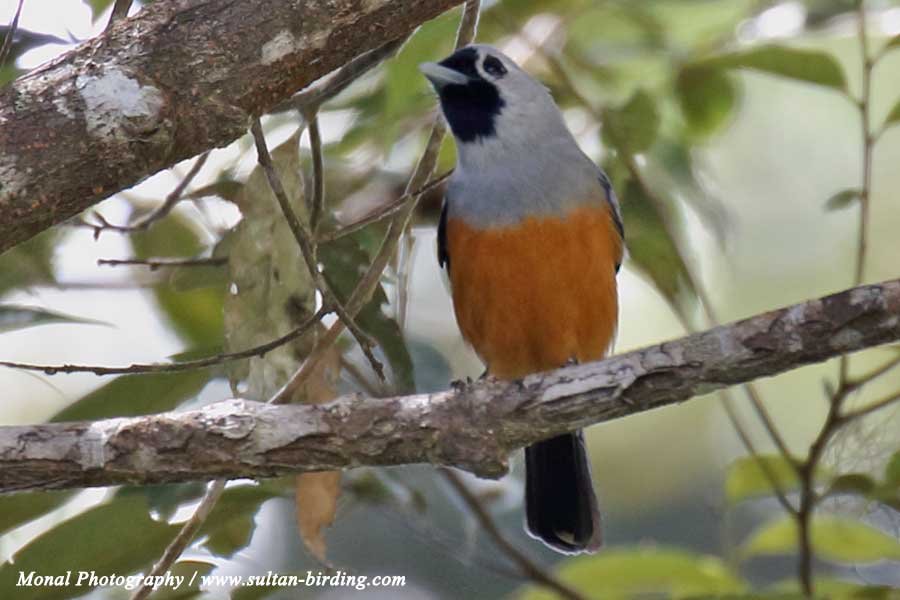 Black-Winged Monarch
Black-winged Monarch, from Arfak, foto by Monal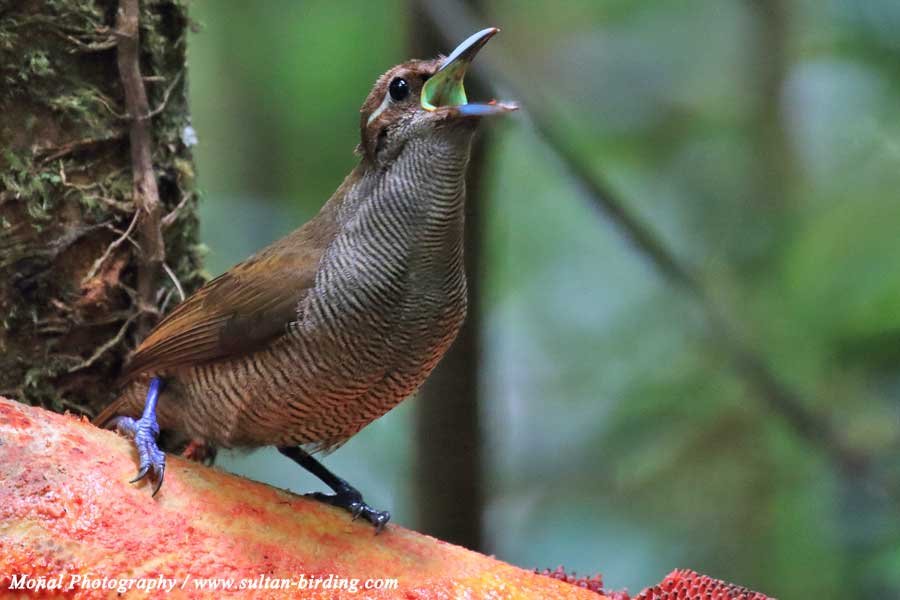 Magnificent bird of paradise - female
Endemic to New Guinea inhabits in hill forest most at 400 – 1200 m. Locally to 1780 m and as low as 100 m. Size 16 – 26 cm. The Male has central tail feathers. Keeps to lower and middle stages. Takes fruit and insects. Heard more often than seen. Males quite vocal, display courts on the ground. Usually seen singly, males seem solitary, but female-plumaged birds from loose flocks of up to six individuals at fruiting bushes and trees. Identified as small short-tailed Paradisaeid. Sexual dimorphic, foto by Monal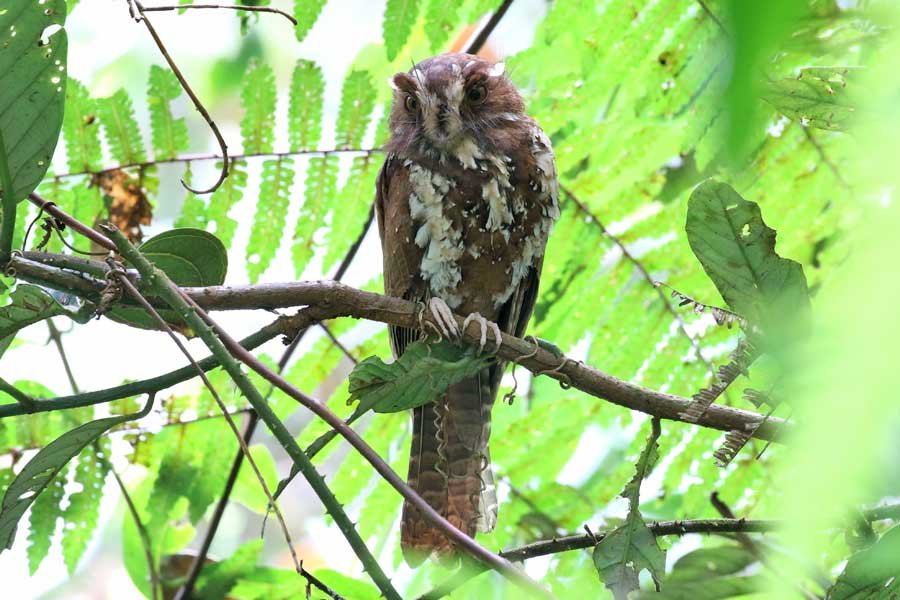 Feline Owlet-Nightjar
Feline Owlet-Nightjar one of great bird from Arfak, Foto by Monal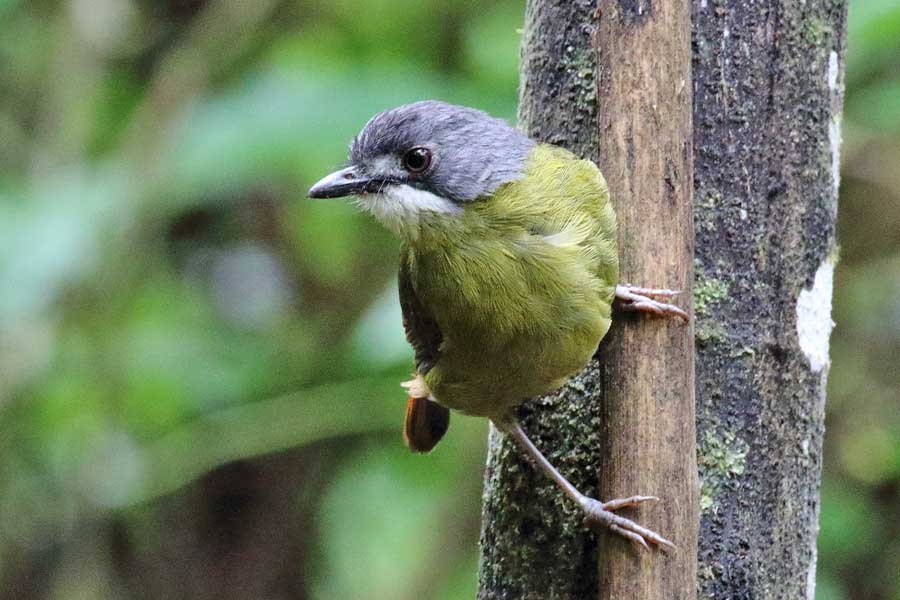 green backed robin
Green-backed Robin, foto by Monal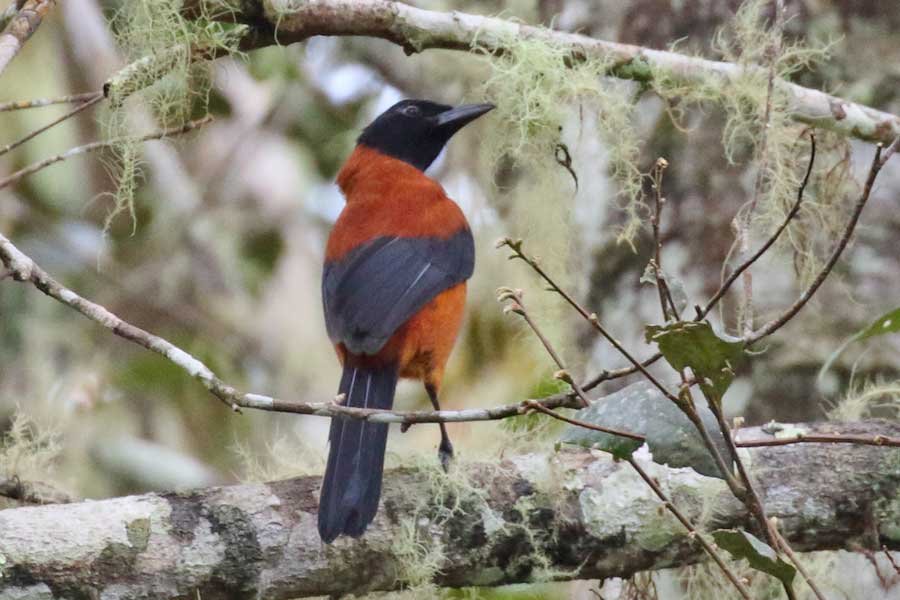 hooded pitohui
Hooded Pitohui, foto by Monal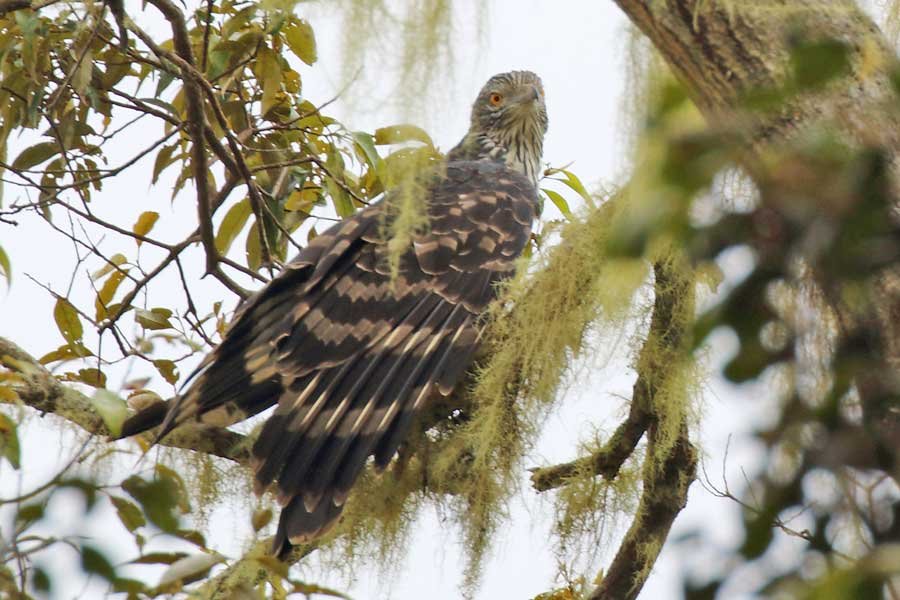 long-tailed Honey-buzzard
Long-tailed Honey-Buzzard, foto by Monal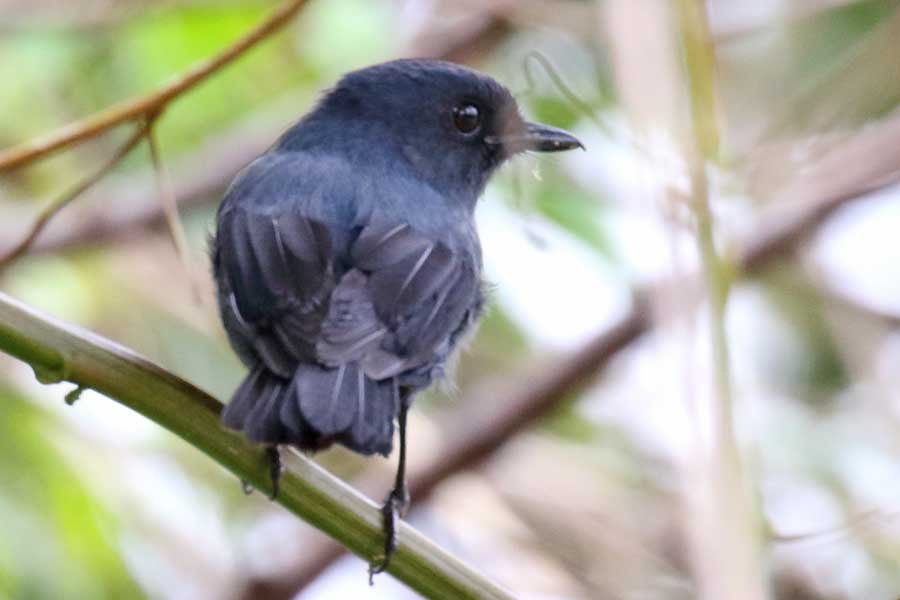 Lesser Melampitta
Lesser Melampitta, found in Arfak, foto by Monal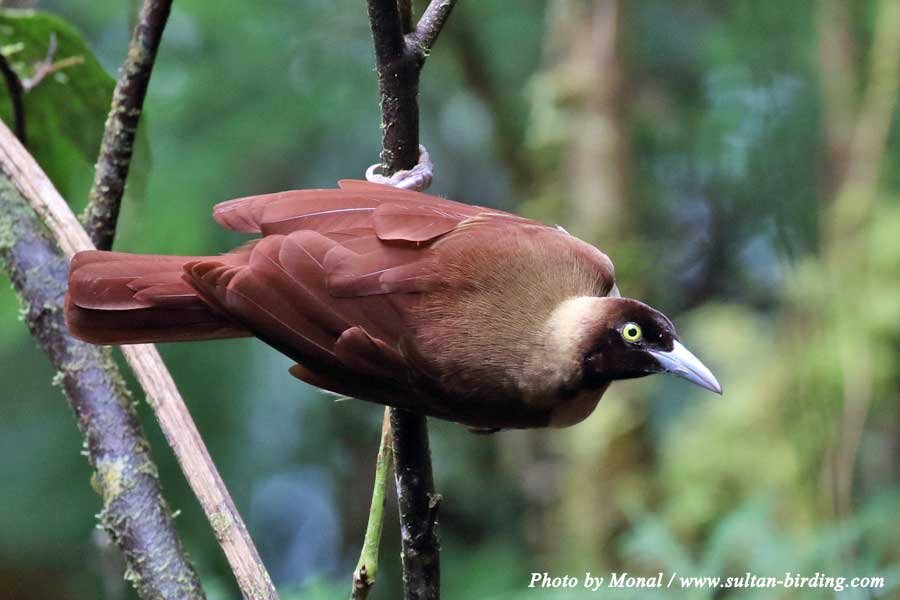 Female of the lesser bird of paradise
Endemic to New Guinea. Inhabits in lowland and hill rainforest, swamp-forest, second growth, disturbed areas, and montane Casuarinagroves at up to 1550 m. Size 32 – 33 cm (excluding tail wires). Keeps to middle and upper stages. Usually seen singly or in loose flocks at fruiting trees. Leks may have five to six adult males and half a dozen female-plumaged birds.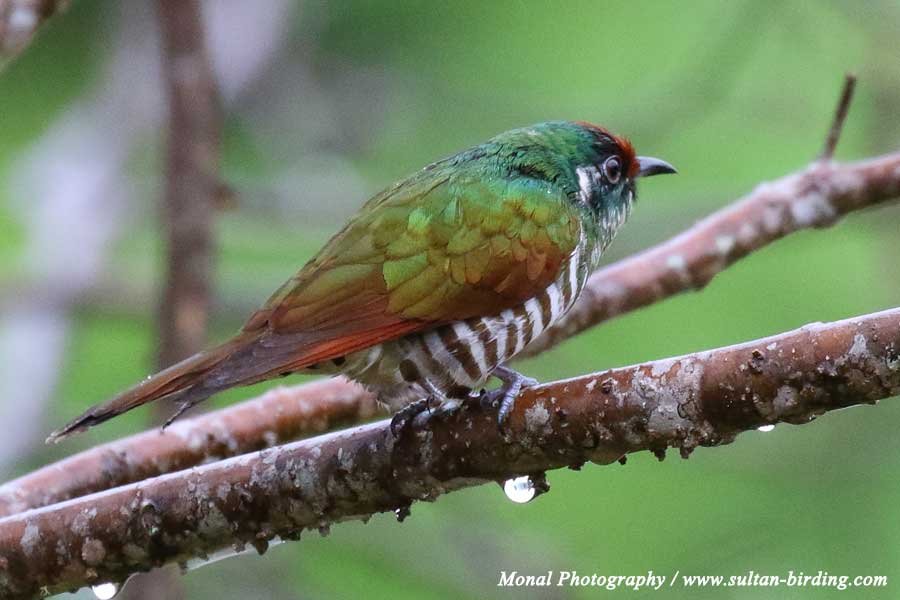 Little Bronze cuckoo
Little Bronze Cuckoo, foto by Monal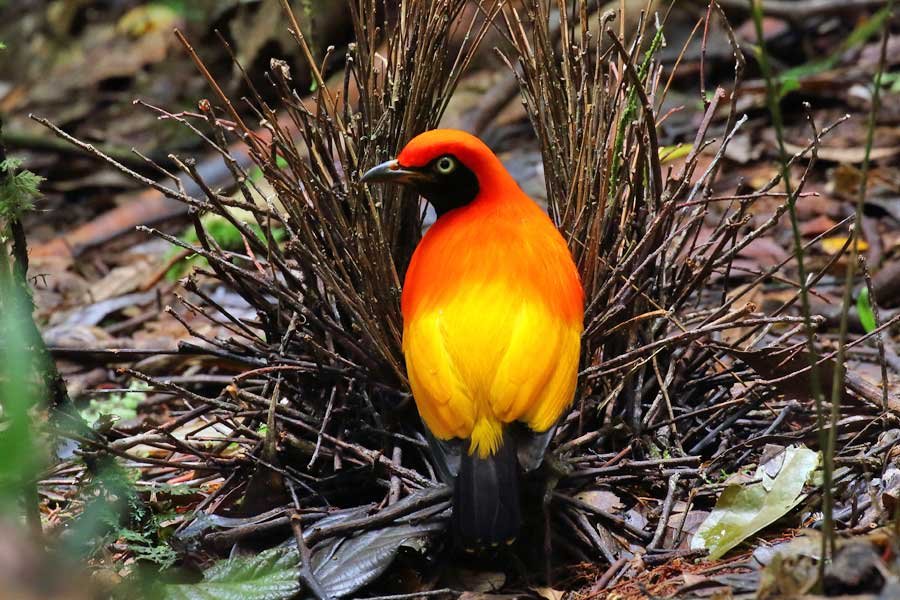 Masked Bowerbird
The rare bird of the masked bowerbird, this is one of the Arfak's star bird, foto by Monal
Upcoming Departure 2023
The price per person is US$ (Please email us)
Location: ARFAK MOUNTAINS
Group Size: 6 – 8 Pax
Duration: 6 Days / 5 Nights
Arrival In: Manokwari Rendani airport, WEST PAPUA of Indonesia
Depart From: Manokwari Rendani airport, WEST PAPUA of Indonesia
Price included: English Speaking Bird Guide, Mineral water, Snacks, Meals (breakfast, lunch, and dinner), Local homestay in Arfak, Entrances to Parks and Reserves, Local guides, local park ranger, birding site fee, landowner fee, Private car
Price not included: Insurance, Alcoholic Beverages, Domestic flight tickets, Laundry, Tips, All personal expenses that are not mentioned on the items above, Any kind of expenditures incurred due to flight cancellation/delays or due to other causes beyond our control.
Kindly please book in advance to ensure the availability.
Arfak Mountains, The spectacular Arfak mountains, on the eastern corner of the Vogelkop peninsula rise steeply behind the coastal town of Manokwari and sheer, steep-sided valley gorges, trekking into the Arfaks takes stamina, but the effort is rewarded with sightings of some spectacular species only found in the mountain of the Vogelkop Peninsula. Dissected by roaring torrentThe Arfaks rise to an elevation of 2,200 m, its stunning and little-known birds, including nine birds-of-paradise, await the birder with six or more days to spend in the pristine forest.
Birdwatching in Indonesia West Papua is exciting but difficult and demanding, although the rewards can be fantastic and some charismatic groups are simply "world-class", parrots, pigeons, kingfishers, and bird-of-paradise being obvious examples. Birds here are usually shy, with light conditions and weather often challenging, the terrain difficult, transport problematic, not to mention the logistic problems (including frequent unexpected airline-schedule changes). Security problems are ever-present but generally not major.
Travel in West Papua is quite challenging but has improved immeasurably of late, although the infrastructure may be far less developed and it is advisable to have a good level of fitness to tackle steeps trails and wet muddy conditions. Security matters are generally better also
Your content goes here. Edit or remove this text inline or in the module Content settings. You can also style every aspect of this content in the module Design settings and even apply custom CSS to this text in the module Advanced settings.
FACTS OF ARFAK BIRDING TRIP 6 DAYS 5 NIGHTS
Location: Arfak Mountains, Papua Barat of Indonesia
Availability: Set Departure
Tour Type: Multi-Day Tour
Tour Focus: Birds
Group Size: Maximum 6 Pax
Duration: 07 Days / 06 Nights
Best Time: Throughout The Year
Pace: Challenging
Arrival In: Manokwari airport, Papua Barat of Indonesia
Depart From: Manokwari airport,  Papua Barat of Indonesia
What is included?
English Speaking Bird Guide
Bottled Water Throughout the Trip
Snacks Throughout the Trip
Meals (breakfast, lunch, and dinner)
All Lodging (Twin-Share room), 5 nights at SultanBirding's Lodge in Arfak, and 1-night at Aston Hotel in Manokwari
Entrances to Parks and Reserves
The local landowner at many of the sites visited.
The 4WD Car Transport
What is not included?
Insurance
Alcoholic Beverages
Airfare to Indonesia ( Jakarta or Bali )
Internal Airfare: Jakarta – Manokwari, and Manokwari – Jakarta
Laundry
Tips
All personal expenses that are not mentioned on the items above.
Any kind of expenditures incurred due to flight cancellation/delays or due to other causes beyond our control.
Payment Term and Condition
We require a minimum of 50% deposit payment to confirm your booking, we cannot guarantee your booking until this has been received. Bookings will be held for 7 days to allow the client time to send a deposit payment. We reserve the right to release the booking if the deposit is not received within 7 days of the booking being made. Changes of dates to bookings after the deposit has been made can be done but will be subject to availability.
Cancelation: Deposit payment No Refund, No show – full payment charge.
Full Payment, The full payment will be required at least 30 days prior to your date of arrival. The invoice amount has to be paid in full, net of all transfer costs and bank charges.
TYPE OF LAND TRANSPORTATION & ROAD
We will use the 4WD car. The road in bad condition.
INFO TRAVEL REQUIREMENTS
A valid passport is required; the passport must be valid for at least six months past your intended stay. Visas on arrival in Indonesia can be obtained for tourists from the US, Canada, UK, Australia, New Zealand, South Africa, and EU countries for stays of under 30 days. There is a fee for this, payable in cash (in US Dollars). Travel requirements are subject to change; we recommend double-checking entry requirements six weeks prior to the tour or ask our office staff for help.
WHAT TO BRING?
Waterproof binoculars of about 8-power are best for maximum light-gathering in the shades of the forest.
A tripod-mounted spotting scope (telescope) is valuable in open habitats along roadsides, especially for birds in the canopy.
Loose-fitting, lightweight clothing and a hat with some sort of visor to shield the eyes from sun or rain.
It is often very cool at dawn but hot at midday, wearing layers that can be easily removed.
Loose long pants and lightweight, good-quality walking boots are often the most comfortable combination. Conditions in the mountains are much cooler, so prepare to keep warm.
Insect repellent is required in some localities.
A lightweight poncho or rain jacket. It is sometimes useful to carry a larger umbrella.
LIABILITY
Sultan Birding Tours Indonesia act only as agents for the passenger in regard to travel, whether by railroad, motorcar, motor coach, boat, or airplane, and assume no liability for injury, damage, loss, accident, delay, or irregularity which may be occasioned either by reason of defect in any vehicle or for any reason whatsoever or through the acts or default of any company or person engaged in conveying the passenger or in carrying out the arrangements of the tour. Sultan Birding Tours Indonesia can accept no responsibility for losses or additional expenses due to delay or changes in air or other services, sickness, weather, strike, war, quarantine, or other causes. All such losses or expenses will have to be borne by the passenger, as tour rates provide for arrangements only for the time stated. Baggage is at the owner's risk entirely. The airlines concerned and their agents and affiliates are not to be held responsible for any act, omission, or event during the time passengers are not on board their aircraft.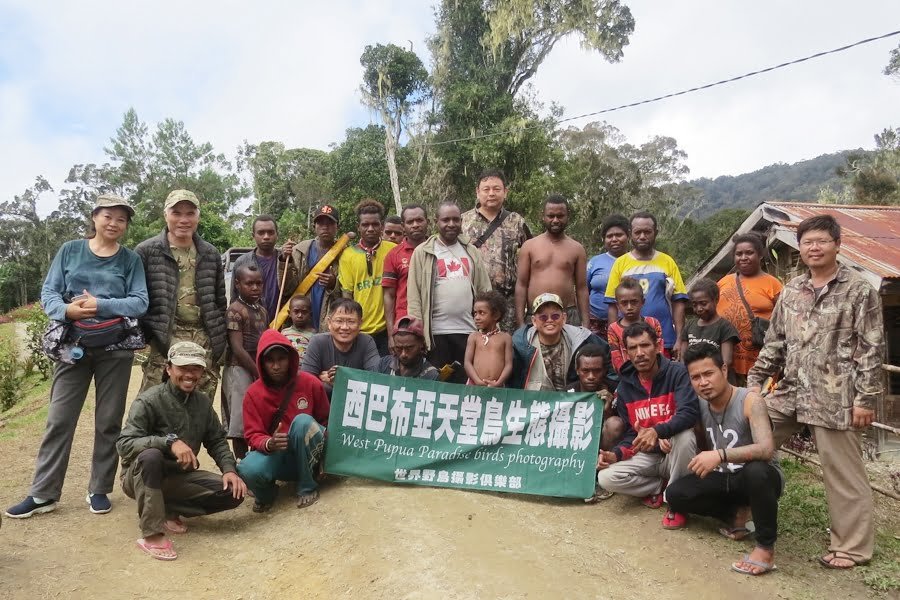 Arfak Birding Lodge Manage by Sultan Birding
Our journey to the Papua Barat and in 2016 Sultan Birding Tours has been successful to build up a nice lodge with nice room and hot water shower and provided excellent food, our lodge located in Mingre village of Arfak Mountains.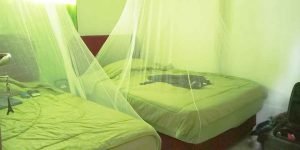 My first introduction to West Papua was in 2016.  Starting with rumors of the beautiful and fascinating Wilson's bird-of-paradise on the island of Waigeo caused me to take a step and flight to Sorong without anyone I knew there. My worries did not arise even though I had never been to Sorong and Waigeo because Waigeo had long been famous in the eyes of the world for diving in Raja Ampat. After a while, I finally managed to meet with local people who have a bird-of-paradise spot on the island of Waigeo. Collaborating with local communities until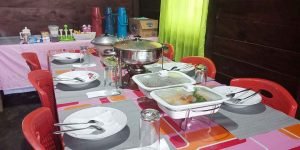 finally, I made a short trip to Sorong and Waigeo. During a year operation in Waigeo, many photos I uploaded to Facebook about Wilson's Bird-of-Paradise and Red Bird-of-Paradise and it turned out to be the beginning of more people who were interested in photographing and seeing more Birds of Paradise in West Papua.
Another story, I have a friend of mine that works as a birding tour operator from China who has worked with me since 2014 for birdwatching and bird photography in Sulawesi, Halmahera, and Bali. Seeing many good responses regarding the photos that I uploaded to Facebook, he finally asked me to arrange a bird photography trip to West Papua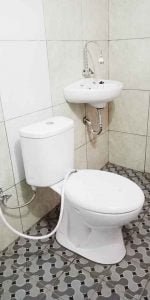 at the time to see Bird of paradise because many of his clients asked to travel to Papua. It never crossed my mind to be able to arrange a trip to Papua that was farther than Waigeo. Unlike other regions in Indonesia, Papua in our eyes at that time was still very scary and also isolated and I know nothing about Papua island but Waigeo only. I was a little hesitant to go there plus many issues that were a little scary at that time made my family worry about my safety. After a long discussion with him and my family, finally, in April 2016 with all my soul and careful preparation, I finally ventured to go to the land of West Papua with the aim of securing the location of the Bird of Paradise and also lodging there. The first place I visited was the village of Mingre in the Arfak Mountains. Information about the Mingre village I got from a local guide that I met his contact on the trip report from the internet.
Arriving there, I was very fascinated by the beauty and hospitality of the local people in Arfak that were far from the 'scary' image as it was in my mind. I was warmly welcomed by them. However, the temperature and also the air in the Arfak mountains are not as warm as the people welcomed, at an altitude of 1,800 meters above sea level is not unusual for me. Of course, many challenges and also things happened outside our prediction but it did not dampen the enthusiasm and hard work me to succeed in the construction of bird tourism spots in the Arfak mountains especially in the village of Mingre at the time.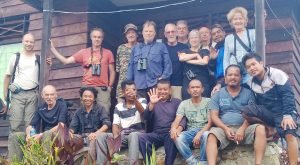 After surveying and establishing bird spots with the local community, we then made our way to the hide of Bird of Paradise and other bird spots. As we know that the Arfak mountains are areas that are still far from the touch of modernization. When we arrived at Arfak, there was no lodging or guesthouse we could use. We only slept on layers of the board in the traditional houses of the local people that make me sick for several days. It is a journey that I will never forget.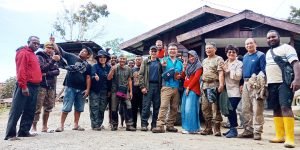 Finally, after a few days of exploring the birding location, Hides of the Birds of Paradise, and also the location that will be used as guesthouses, I returned to Manado. In June 2016 I came back to Mingre again and also started construction of the guesthouses at a place that was approved by the community. All items ranging from building equipment, beds, bathwater heaters, and all necessary equipment we brought from the City of Manokwari. The journey is long but has many beautiful memories to remember.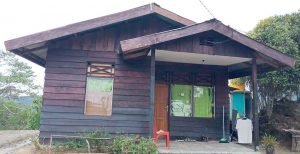 The construction of the inn lasted for only one month since July 2016 the first group of bird photographers from China finally set foot in the Arfak mountains. Everything went according to what we planned. Until now, in 2020 we still continue to collaborate with the local community to jointly build and maintain the potential of Tourism in this Arfak land so that it can be enjoyed until later our children and grandchildren are born enjoying it as well as all of us hope that the Bird of Paradise and other birds species in other parts of Papua will be around forever.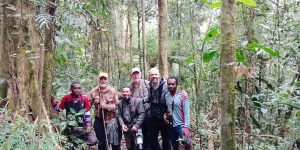 I asked why I want to arrange a trip to West Papua? isn't there in Sulawesi, Java, Borneo, and Flores too much easier, why should I dare to take such a big risk in Papua? I have so many friends asking me that. For the answer, of course initially, because I want to photographs bird-of-paradise and there was a request from Chinese guests who wanted to witness the uniqueness and also the beauty of the Bird of Paradise that had not been exposed much outside the world. Then the second is when I first saw the bird of paradise in Waigeo I was bewitched and fell in love with the beauty and uniqueness they have. I myself who is a photographer cannot possibly miss the opportunity given by God to me to capture the beauty of the bird of paradise in my camera. Thirdly, the birding tour operator spirit that I have from a long time ago made me want the desire to continue to develop the tourism potential in the Arfak region. This is also inseparable from my love for the local community because they have very kindly accepted me like their own family in this strange land. I want to provide even the smallest assistance to lift the economy in this Arfak region.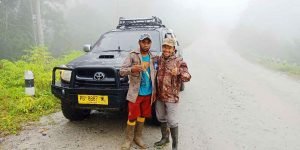 It was a decision that I will never regret in 2016 in Waigeo and when I took the first step towards Manokwari for Arfak mountains in the land of Papua. Although many things happened that were beyond my ability, I am proud to have dared to take this path. Leaving my beloved family far from my arms, sometimes traveling for months so rarely stay at home just to spend time with family and others does not make me afraid of the goals that I want to achieve. I am very grateful to be blessed with a family that is very understanding of my profession so that even though they are out of reach there is no worry in my heart. It has been the purpose of my life to devote myself to trying to lift the economy wherever it's the place that is related to the world of tourism. By setting foot in the land of Papua has made me realize that there are still many things that we have to fix and build together to improve the welfare of the indigenous people of Papua in the land of West Papua. Contributing to the economy of the local community is enough to make me proud to wrestle in the world of tourism for more than 20 years. This will not stop here. Going forward, there are still many other things that we will do in the future with the hope of prospering the lives of local people and preserving and also protecting together the population of Birds of Paradise, Arfak endemic birds (Vogelkops), and their culture also. Sultan Birding the first local birding tour operator in West Papua who most involved employee local people throughout the birding industry and has impact for local benefit on Arfak highlands. Sultan Birding company has a strong nature conservation ethic and provides environmental education and benefits to local communities