Arfak Birding Lodge Manage by Sultan Birding
Our journey to the Papua Barat and in 2016 Sultan Birding Tours has been successful to build up a nice lodge with nice room and hot water shower and provided excellent food, our lodge located in Mingre village of Arfak Mountains.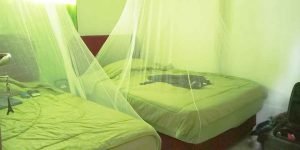 My first introduction to West Papua was in 2016.  Starting with rumors of the beautiful and fascinating Wilson's bird-of-paradise on the island of Waigeo caused me to take a step and flight to Sorong without anyone I knew there. My worries did not arise even though I had never been to Sorong and Waigeo because Waigeo had long been famous in the eyes of the world for diving in Raja Ampat. After a while, I finally managed to meet with local people who have a bird-of-paradise spot on the island of Waigeo. Collaborating with local communities until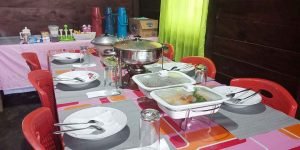 finally, I made a short trip to Sorong and Waigeo. During a year operation in Waigeo, many photos I uploaded to Facebook about Wilson's Bird-of-Paradise and Red Bird-of-Paradise and it turned out to be the beginning of more people who were interested in photographing and seeing more Birds of Paradise in West Papua.
Another story, I have a friend of mine that works as a birding tour operator from China who has worked with me since 2014 for birdwatching and bird photography in Sulawesi, Halmahera, and Bali. Seeing many good responses regarding the photos that I uploaded to Facebook, he finally asked me to arrange a bird photography trip to West Papua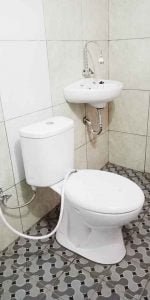 at the time to see Bird of paradise because many of his clients asked to travel to Papua. It never crossed my mind to be able to arrange a trip to Papua that was farther than Waigeo. Unlike other regions in Indonesia, Papua in our eyes at that time was still very scary and also isolated and I know nothing about Papua island but Waigeo only. I was a little hesitant to go there plus many issues that were a little scary at that time made my family worry about my safety. After a long discussion with him and my family, finally, in April 2016 with all my soul and careful preparation, I finally ventured to go to the land of West Papua with the aim of securing the location of the Bird of Paradise and also lodging there. The first place I visited was the village of Mingre in the Arfak Mountains. Information about the Mingre village I got from a local guide that I met his contact on the trip report from the internet.
Arriving there, I was very fascinated by the beauty and hospitality of the local people in Arfak that were far from the 'scary' image as it was in my mind. I was warmly welcomed by them. However, the temperature and also the air in the Arfak mountains are not as warm as the people welcomed, at an altitude of 1,800 meters above sea level is not unusual for me. Of course, many challenges and also things happened outside our prediction but it did not dampen the enthusiasm and hard work me to succeed in the construction of bird tourism spots in the Arfak mountains especially in the village of Mingre at the time.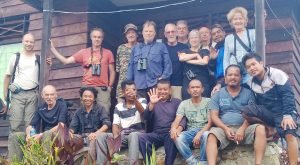 After surveying and establishing bird spots with the local community, we then made our way to the hide of Bird of Paradise and other bird spots. As we know that the Arfak mountains are areas that are still far from the touch of modernization. When we arrived at Arfak, there was no lodging or guesthouse we could use. We only slept on layers of the board in the traditional houses of the local people that make me sick for several days. It is a journey that I will never forget.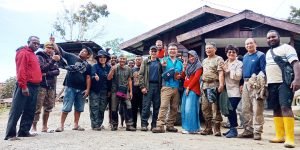 Finally, after a few days of exploring the birding location, Hides of the Birds of Paradise, and also the location that will be used as guesthouses, I returned to Manado. In June 2016 I came back to Mingre again and also started construction of the guesthouses at a place that was approved by the community. All items ranging from building equipment, beds, bathwater heaters, and all necessary equipment we brought from the City of Manokwari. The journey is long but has many beautiful memories to remember.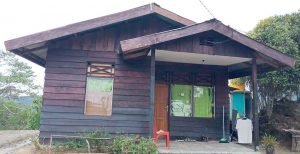 The construction of the inn lasted for only one month since July 2016 the first group of bird photographers from China finally set foot in the Arfak mountains. Everything went according to what we planned. Until now, in 2020 we still continue to collaborate with the local community to jointly build and maintain the potential of Tourism in this Arfak land so that it can be enjoyed until later our children and grandchildren are born enjoying it as well as all of us hope that the Bird of Paradise and other birds species in other parts of Papua will be around forever.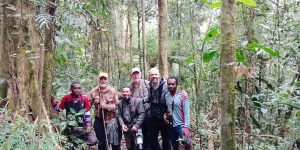 I asked why I want to arrange a trip to West Papua? isn't there in Sulawesi, Java, Borneo, and Flores too much easier, why should I dare to take such a big risk in Papua? I have so many friends asking me that. For the answer, of course initially, because I want to photographs bird-of-paradise and there was a request from Chinese guests who wanted to witness the uniqueness and also the beauty of the Bird of Paradise that had not been exposed much outside the world. Then the second is when I first saw the bird of paradise in Waigeo I was bewitched and fell in love with the beauty and uniqueness they have. I myself who is a photographer cannot possibly miss the opportunity given by God to me to capture the beauty of the bird of paradise in my camera. Thirdly, the birding tour operator spirit that I have from a long time ago made me want the desire to continue to develop the tourism potential in the Arfak region. This is also inseparable from my love for the local community because they have very kindly accepted me like their own family in this strange land. I want to provide even the smallest assistance to lift the economy in this Arfak region.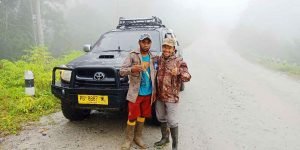 It was a decision that I will never regret in 2016 in Waigeo and when I took the first step towards Manokwari for Arfak mountains in the land of Papua. Although many things happened that were beyond my ability, I am proud to have dared to take this path. Leaving my beloved family far from my arms, sometimes traveling for months so rarely stay at home just to spend time with family and others does not make me afraid of the goals that I want to achieve. I am very grateful to be blessed with a family that is very understanding of my profession so that even though they are out of reach there is no worry in my heart. It has been the purpose of my life to devote myself to trying to lift the economy wherever it's the place that is related to the world of tourism. By setting foot in the land of Papua has made me realize that there are still many things that we have to fix and build together to improve the welfare of the indigenous people of Papua in the land of West Papua. Contributing to the economy of the local community is enough to make me proud to wrestle in the world of tourism for more than 20 years. This will not stop here. Going forward, there are still many other things that we will do in the future with the hope of prospering the lives of local people and preserving and also protecting together the population of Birds of Paradise, Arfak endemic birds (Vogelkops), and their culture also. Sultan Birding the first local birding tour operator in West Papua who most involved employee local people throughout the birding industry and has impact for local benefit on Arfak highlands. Sultan Birding company has a strong nature conservation ethic and provides environmental education and benefits to local communities