west papua birding
by Sultan Birding Tours Indonesia
Waigeo Birding Tours
Arfak Birding Tours
Nimbokrang Birding Tours
Biak Birding Tours
Malagufuk Birding Tours
Sorong Birding Tours
Baliem Valley Birding Tours
Numfour Birding Tours
Kofiau Birding Tours
Tambraw Birding Tours
Booking
West Papua Birding Trip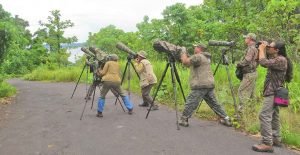 We are a local birding tour operator who has been arranging West Papua birding and Birdwatching in West Papua programs for birdwatchers and bird photographers from around the world to West Papua of Indonesia to watch and photographs bird-of-paradise. Our services are ranged from medium to high category in lodging and meals depending on your needs. We provide packages including all services from your arrival until your departure from West Papua of Indonesia. We help you to set the ideal itinerary considering your main requirements as well as the birds you want to watch during your West Papua Birding Trip, Birdwatching in West Papua, Birding in West Papua. We also provide 4WD transportation and a knowledgeable birding guide who will take you to the specific display Lek for you to watch or take a picture of bird-of-paradise and your other target birds. Let us know the interests of your birding journey to West Papua, and we will be glad to advise and assist you in planning the itinerary that suits better to fulfill your expectations.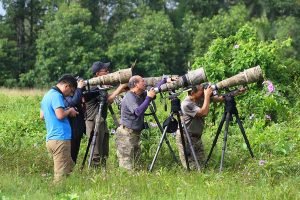 We offer you 15 days West Papua birding trip, Our West Papua birding tour starts on small town of Sorong, The word Sorong meant "deep and turbulent sea" in the local Soreri language. this town well known as the gateway to Waigeo in Raja Ampat islands. We travel by express boat to Waigeo and we will stay two nights at the nice resort near the beach. Our main target here Wilson's bird-of-paradise and Red bird-of-paradise as well as endemic Raja ampat pitohui, we also try our luck to see amazing Western Crowned Pigeon, Beach Kingfisher, Yellow billed Kingfisher, Palm Cockatoo, Brown headed Crow. After Waigeo we go back to Sorong for overnight stay.
Next we take a flight to the small town of Manokwari from here we will travel by 4WD car up to the village of Mingre amongst the spectacular deep valleys of the higlands of Arfak Mountains. In Mingre Village we have our own guesthouse for you with a good facilities. The highland endemic include Western Parotia, Arfak Astrapia, Long-tailed Paradigalla, Black Sicklebill, Vogelkop Superb bird of paradise, black billed Sicklebill, Magnificent bird of paradise, Lesser bird-of-paradise, Arfak Honey eater, Vogelkop bowerbird, Masked bowerbird, Feline Owlet Nightjar. After this we go back to Manokwari for overnight stay
Finally we will take a flight to Sentani Jayapura where we explore the lowland rainforest. You will stay at the lodge in Nimbokarng which have air condition room with hot water shower and also excellent food. This lodge is management by Sultan Birding, we invest here for good accommodation for our lovely clients to visit Nimbokrang. Our bird of paradise here include Twelve wired bird of paradise, King bird of paradise, Lesser bird of Paradise, Salvadori's Fig Parrot, Pale billed Sicklebill, Victoria Crowned Pigeon.
Delight yourself watching bird-of-paradise just a few meters away. Great chances to take pictures and learn from an experienced local guide. For those of you who have a short birding trip, we still can help you, We offer you Waigeo Birding Tour in 5 days, Arfak Birding Tour 5 days, Nimbokrang Birding Tour 5 days, Biak Birding Tour 5 days, Numfour Birding Tour 5 days, Wamena Birding Tour 5 days, Sorong Birding Tour 4 Days, Malagufuk Birding Tour 4 days.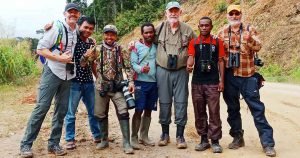 For those of you who really wan to visit West Papua and really want to see your dream bird of paradise, kindly please feel free to send us email and we will help you to arrange your birding trip to West Papua. We are specialize for Papua bird photography, Papua birdwatching, Birding Papua, Arfak birding, Waigeo birding, Jayapura birding, sorong birdwatching, Biak birdwatching, Birding biak and Balliem Valley birding.
Welcome to West Papua
Enjoy the photos slide of Bird-of-Paradise and Birds of West Papua by Sultan Birding Tours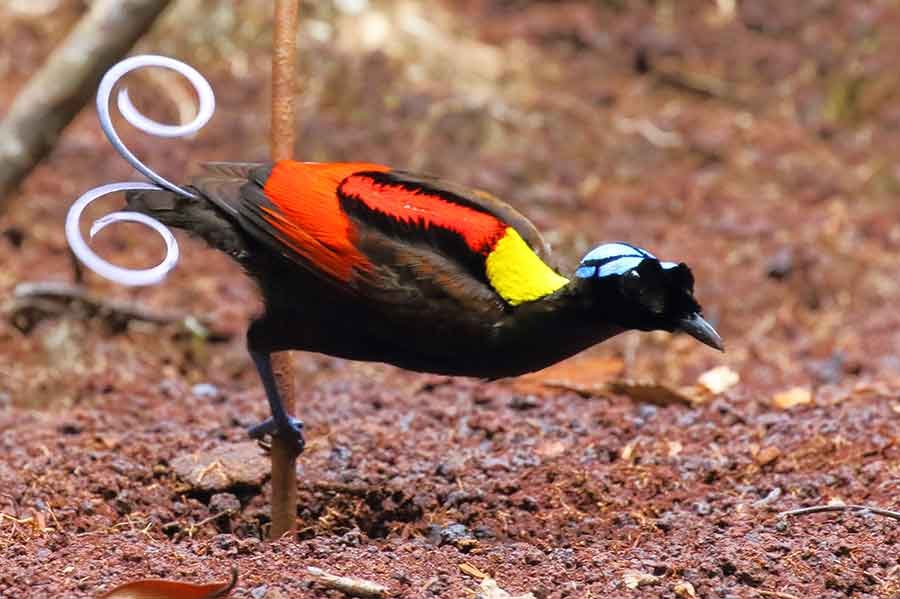 Wilson's Bird-of-Paradise
Endemic to West Papua island. Monotypic. Size 16 – 21 cm. Male has central tail feathers. Found only on Batanta and Waigeo island. Inhabiting on the hill and mid-montane forest, rarely in lowlands. Keeps mostly to the forest interior. Very vocal, display courts on the ground. Identified as small short-tailed paradisaeid and one of the most striking of the smallest members of the family on account of its unusual color combination.
Red Bird-of-Paradise
Endemic to West Papuan island. It occurs only in West Papuan island on Batanta and Waigeo. Inhabiting in lowland and hill forest to 600 m. Size 30-33 cm (excluding tail wires). Keeps to middle and upper stages. Works along branches like a woodpecker. Communal leks at huge forest trees may have up to twenty males. Sexual dimorphic.
Magnificent Bird-of-Paradise
Endemic to New Guinea inhabits in hill forest most at 400 – 1200 m. Locally to 1780 m and as low as 100 m. Size 16 – 26 cm. Male has central tail feathers. Keeps to lower and middle stages. Takes fruit and insects. Heard more often than seen. Males quite vocal, display courts on the ground. Usually seen singly, males seem solitary, but female-plumaged birds from loose flocks of up to six individuals at fruiting bushes and trees. Identified as small short-tailed Paradisaeid. Sexual dimorphic.
Western Parotia
Endemic to West Papua. Found in Vogelkop and Wandammen Peninsula. Inhibiting in mid-montane forests and old second growth at 1100 – 1900 m. Size 30 – 33 cm. Usually seen singly, but small groups at fruiting trees. Joined mixed flocks. Male almost entirely black, with erectile triangular silvery-white frontal chest, broad iridescent purple nuchal bar, and crown iridescent coppery bronze.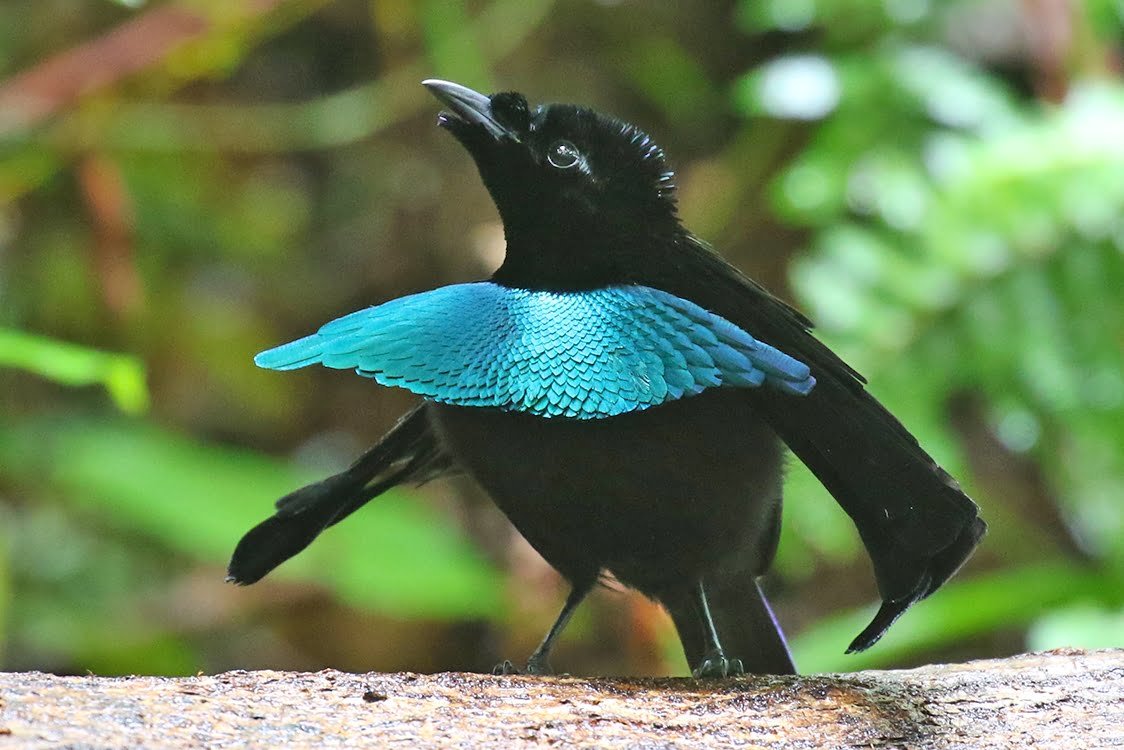 Vogelkop Superb Bird-of-Paradise
Endemic to Vogelkop. Size 25 – 26 cm. inhabits middle and upper montane forest, gardens, disturbed areas and Casuarina groves at 850 – 2300 m, mainly 1650 – 1900. Keeps mostly to middle stage and canopy, sometimes descending to lower levels. Display courts on saplings or trunks near the ground.
Black Billed-Sicklebil
Endemic to New Guinea. Inhibits in the montane forest at 1100-2000 m, rarely down to 600 m or up to 2250 m. Size 36 cm, usually seen singly. Male seems solitary. Female-plumaged birds rarely join mixed flocks at fruiting trees. Small sicklebill of forest interior with strongly decurved bill and rounded tail. Sexual dimorphic.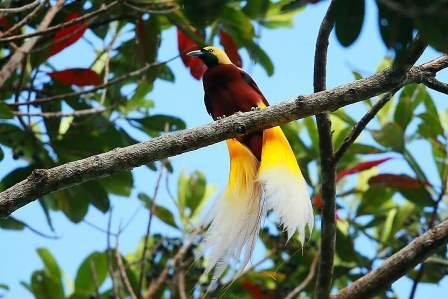 Lesser Bird-of-Paradise
Endemic to New Guinea. Inhabits in lowland and hill rainforest, swamp-forest, second growth, disturbed areas and montane Casuarina groves at up to 1550 m. Size 32 – 33 cm (excluding tail wires). Keeps to middle and upper stages. Usually seen singly or in loose flocks at fruiting trees. Leks may have five to six adult males and half-a-dozen female-plumaged birds.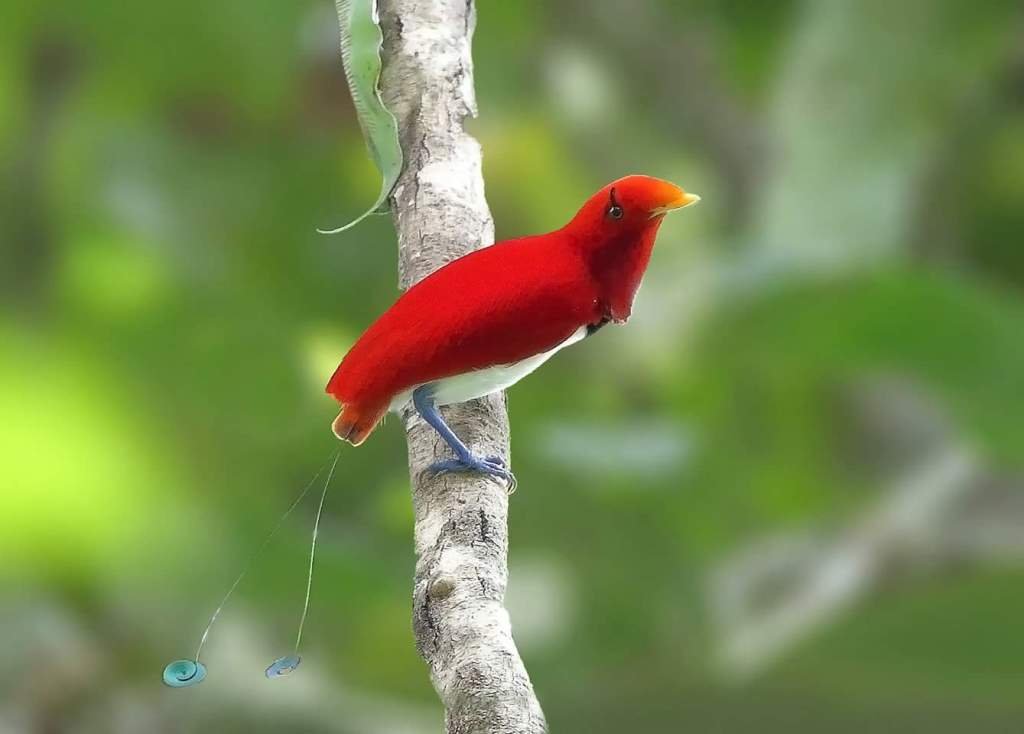 King Bird-of-Paradise
.Inhabits in lowland and hill forest to 300 m, locally to 1150 m, also secondary forest and forest edge. Male size from 16 cm to 31 cm with tail feathers. Female 17 cm. Endemic to New Guinea and Aru Island. Keeps mainly to upper and middle stages, and fond of vine tangles. Usually seen singly, sometimes loose flocks up to ten birds at fruiting trees, males in auditory contact at displays trees.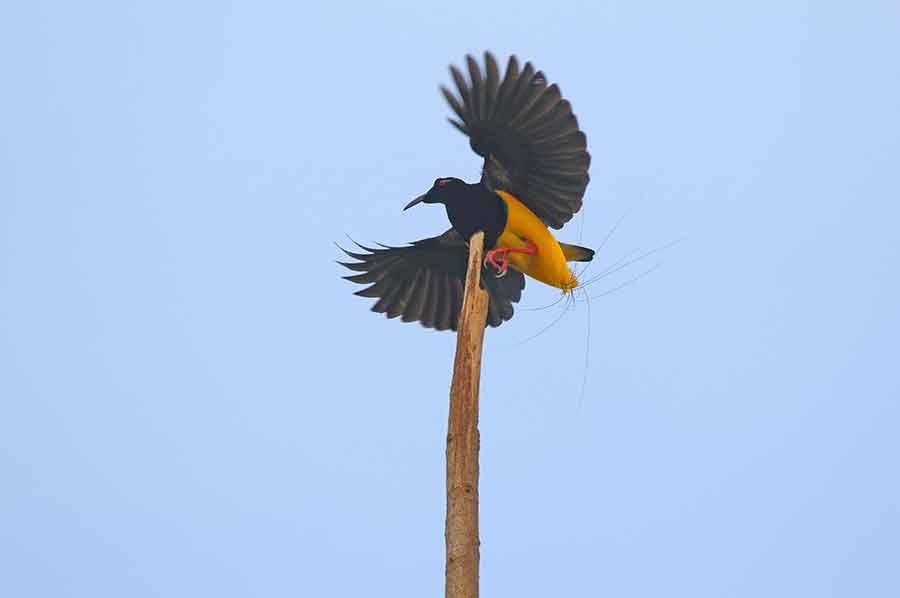 Twelve Wired Bird-of-Paradise
Endemic to New Guinea. Inhabits in swamp-forest and riparian forest with sago palms and Pandanus, also adjacent rainforest, in lowlands to 100 m. very much a lowland wet-forest specialist, wary but not particularly shy. Size 32 – 34 cm. Keeps to middle stages canopy. Male displays from bare exposed palm or vertical dead-tree tops. Usually seen singly. Displaying males will attract several female-plumaged birds and they join mixed feeding flocks.
West Papua has around 386 endemic species, 117 of these being non-passerines and 269 passerines. West Papua and Papua is blessed with a great abundance of forest in extremely challenging terrain, and this has thus far enabled many of the island ecosystems to remain relatively intact. The big pluses offered by West Papua include essentially a new bird fauna, particularly for songsbirds, for examples, the wonderful birds of paradise, bowerbirds, fruit-doves, pigeons, parrots and kingfishers. West Papua is best considered a specialty destination, to be savored after gaining a seasoned grasp of birding in the tropical world. Whether a resident or a visitor, you will find bird-watching in West Papua a challenge, albeit an exciting one. Thus, it pays to plan and to be prepared. Birding in West Papua can produce amazing rewards but also offers up no shortage of hazards and frustrations. The resident novice or newly arriving visitors to West Papua will soon discover that although birds of the open country are conspicuous and easy to study, the forest-dwelling species typically are often less common, more selective, and difficult to observe. This phenomenon is common to tropical humid forest environments around the world. Patience and repeated effort provide the only antidote to the frustrations created by those rare species that defy locating on one's first few field trips.  In nearly all West Papua habitats, bird activity is greatest at dawn and shortly thereafter. It pays to be afield early. By 10 a.m. it is usually quiet, especially in the lowlands, unless rain brings cooler conditions.  Hunting has been continuous for thousands of years, but at low-impact largely sustainable levels until very recently, when modern technology and the vastly increased human population pressure have tipped the balance. It is often asked why West Papua and Papua birds are so shy in many areas, and the response usually involves reference to hunting pressures, although this seems a tad glib and doubtless other factors are operating.
What to bring?
Waterproof binoculars of about 8-power are best for maximum light-gathering in the shades of the forest.
A tripod-mounted spotting scope (telescope) is valuable in open habitats along roadsides, especially for birds in the canopy.
A lightweight digital sound recorder, with a speaker suitable for playback and a directional microphone, greatly aids in learning vocalizations and luring shy vocal species into view.
Loose-fitting, lightweight clothing and a hat with some sort of visor to shield the eyes from sun or rain.
It is often very cool at dawn but hot at midday, wearing layers that can be easily removed.
Loose long pants and lightweight, good quality walking boots are often the most comfortable combination. Conditions in the mountains are much cooler, so prepare to keep warm.
Insect repellent is required in some localities.
A lightweight poncho or rain jacket. It is sometimes useful to carry a larger umbrella.
Our birding in West Papua running from January to December with destination to Waigeo island, Nimbokrang, Sorong, Malagufuk, Biak Numfour island. While birding in Arfak Mountains we run from mid-june to mid-november during the year.
West Papua 15 days and 14 nights
Day 01 Sorong  – Waigeo
Day 02 Waigeo island
Day 03 Waigeo island
Day 04 Waigeo – Sorong
Day 05 Sorong – Manokwari
Day 06 Arfak
Day 07 Arfak
Day 08 arfak
Day 09 arfak 
Day 10 Arfak
Day 11 Arfak – Manokwari
Day 12 Manokwari – Jayapura
Day 13 Nimbokrang
Day 14 Nimbokrang
Day 15 Nimbokrang – Next destination
May 2020
Waigeo, 10 – 15, space available
Arfak, 16 – 20, space available
Nimbokrang 21 – 25, Space available