Waigeo Birding - Papua
by Sultan Birding Tours Indonesia
Raja Ampat or 'Four Kings' in Indonesian comprises Waigeo, Batanta, Salawati, and Misool,
plus the smaller Kofiau island, Gebe island, and Gag island.
Over 250 birds have been recorded for the Raja Ampat Islands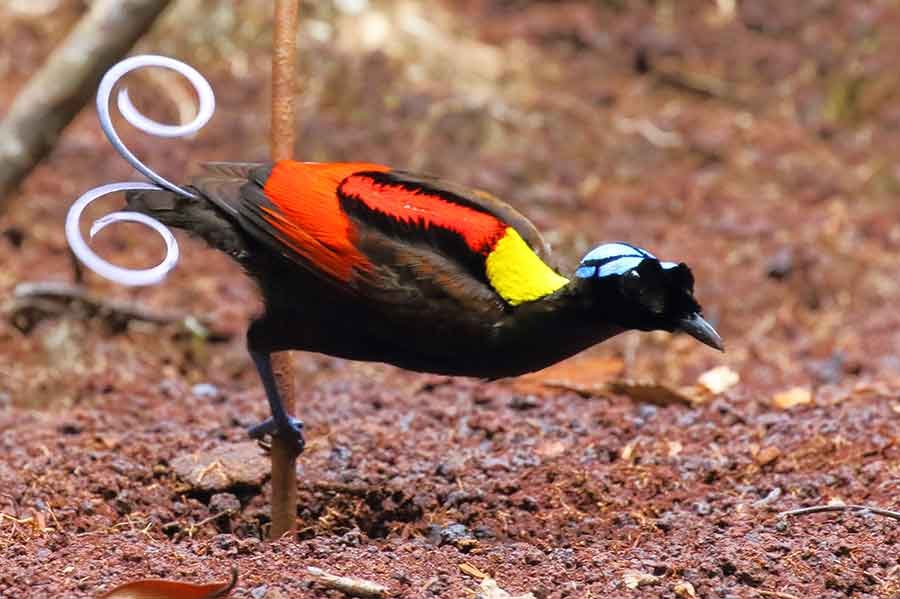 Waigeo Birding 6 days / 5 nights
Date & Price
PROMO only from July – December 2021
We recommend early booking
Price starting from US$ 2.100/person sharing based on 4 – 6 participants
Includes 4 nights accommodation at the beach resort in Waigeo, 1-night at Swiss bel hotel Sorong, full board meals,  Private car, Mineral Water, Bird Guide, Express boat Sorong – Waigeo – Sorong, Entrance fee, Birding site fee, Landowner fee
Waigeo Birding, Raja Ampat Islands

Today's Raja Ampat or 'Four Kings' in Indonesian comprises Waigeo, Batanta, Salawati, and Misool, plus the smaller Kofiau island, Gebe island, and Gag island. Over 250 birds have been recorded for the Raja Ampat Islands. As most of the islands are 'land-bridge islands' – that is, they were attached to the mainland as recently as 8,000 years ago, the bird fauna is quite diverse. Most bird photographers and birdwatchers go to Waigeo islands to photographs and see two species of birds-of-paradise Wilson's bird-of-paradise and Red bird-of-paradise. Our Waigeo birding, Waigeo photography, and Waigeo birdwatching trip focus on Waigeo island which is the best place to see the absolutely stunning Wilson's bird-of-paradise Diphyllodes respublica one of the most beautiful birds in the world. We will watch the bird from a hide overlooking the display grounds where we will have good chances to enjoy a male in full action calling and displaying to attract females to come. Around hill forest, we can find also home of the world's must-see birds including, Red Bird-of-paradise Paradise Rubra, Western Crowned Pigeon Goura cristata, the recently re-discovered Waigeo's Brushturkey Aepydodius bruijnii (unfortunately a very tough bird, which may not easily be found), Raja Ampat pitohui Pitohui cerviniventris, Brown-headed Crow Corvus fuscicapillus.
WAIGEO BIRDING ITINERARY 5 DAYS / 4 NIGHTS
Day 01. Sorong arrival – by express boat to Waigeo
Upon arrival in Sorong, if we have time, we can bird around mangroves near Sorong, where we will look for Blue-black Kingfisher, Little Kingfisher, Barred Rail, Collared Imperial Pigeon, Orange-fronted Fruit Dove, Moustached Treeswift, and Orange-breasted Fig-Parrot. then After lunch, we will travel by express boat from Sorong to Waigeo. On arrival at Waigeo Island, we will check into our beach resort.
Days Day 02, Day 03, and Day 04:  Birding on Waigeo Island
During our time on Waigeo, we also hope to encounter the endemics, such as Wilson's Bird-of-paradise with its bright, cerulean-blue, bare crown crisscrossed by fine black lines considered by many as the best-looking bird on the planet, the crimson-plumed Red Bird-of-paradise, and others, Hook-billed Kingfisher, Common Paradise Kingfisher, Papuan Pitta, Hooded Pitta, Blyth's Hornbill, New Guinea Friarbird, Southern Variable, and Raja Ampat Pitohuis, Hooded and Black Butcherbirds, Marbled and Papuan Frogmouths, Papuan Boobook, Dusky Megapode, Pygmy and Gurney's Eagles, Red-necked Crake, New Guinea Bronzewing, Moustached Treeswift, Moluccan King Parrot, Brown-headed Crow, Western Crowned, Pheasant Pigeon, Palm Cockatoo, and Great-billed Parrot and Glossy-mantled Manucode. In one afternoon in Waigeo we will take a boat into Kabui Bay to look for Great-billed Heron, Raja Shelduck, White-bibbed Fruit Dove, and Moluccan Starling, Great-billed Parrots, Spice Imperial Pigeon, Beach Kingfisher, Violet-necked Lory, Island Monarch.
Day 05. Birding on Waigeo and travel back to Sorong
Morning birding along the road on Waigeo, where we will search for more of the species. after lunch, we will travel back to Sorong by express boat.
Day 06. Departure
Free program and departure from Sorong for the next destination.
DETAILS OF WAIGEO BIRDING TRIP 6 DAYS 5 NIGHTS
Location: SORONG AND WAIGEO ISLANDS
Availability: Set Departure
Tour Type: Multi-Day Tour
Tour Focus: Birds
Group Size: Maximum 10 Pax
Duration: 06 Days / 05 Nights
Best Time: Throughout The Year
Pace: Challenging
Arrival In: Sorong airport, WEST PAPUA of Indonesia
Depart From: Sorong airport,  WEST PAPUA of Indonesia
What is included?
English Speaking Bird Guide
Mineral water, Snacks
Meals (breakfast, lunch, and dinner)
Resort in Waigeo and Hotel in Sorong (Twin-Share room)
Entrances to Parks and Reserves
Local guides, local park ranger, birding site fee, landowner fee
Private car
What is not included?
Insurance
Alcoholic Beverages
Airfare to Indonesia ( Jakarta or Bali )
Internal Airfare: Jakarta – Sorong, and Sorong – Jakarta
Laundry, Tips
The Raja Ampat Entry Fee, Tag or Pin ( Rp. 1.000.000 per person )
All personal expenses that are not mentioned on the items above.
Any kind of expenditures incurred due to flight cancellation/delays or due to other causes beyond our control.
Payment Term and Condition
We require a minimum of 50% deposit payment to confirm your booking, we cannot guarantee your booking until this has been received. Bookings will be held for 7 days to allow the client time to send a deposit payment. We reserve the right to release the booking if the deposit is not received within 7 days of the booking being made. Changes of dates to bookings after the deposit has been made can be done but will be subject to availability.
Cancelation: Deposit payment No Refund, No show – full payment charge.
Full Payment, The full payment will be required at least 30 days prior to your date of arrival. The invoice amount has to be paid in full, net of all transfer costs and bank charges.
TYPE OF LAND TRANSPORTATION & ROAD
We will use a car. The road is some part in good condition and some part in bad condition. While from Sorong to Waigeo and back from Waigeo to Sorong will take an express boat.
BIRD GUIDE
This trip will be provided with an English speaking bird guide during the whole trip and a local guide (who owns/guard the land) for each place in Waigeo
INFO TRAVEL REQUIREMENTS
A valid passport is required; the passport must be valid for at least six months past your intended stay. Visas on arrival in Indonesia can be obtained for tourists from the US, Canada, UK, Australia, New Zealand, South Africa, and EU countries for stays of under 30 days. There is a fee for this, payable in cash (in US Dollars). Travel requirements are subject to change; we recommend double-checking entry requirements six weeks prior to the tour or ask our office staff for help.
LIABILITY
Sultan Birding Tours Indonesia act only as agents for the passenger in regard to travel, whether by railroad, motorcar, motor coach, boat, or airplane, and assume no liability for injury, damage, loss, accident, delay, or irregularity which may be occasioned either by reason of defect in any vehicle or for any reason whatsoever or through the acts or default of any company or person engaged in conveying the passenger or in carrying out the arrangements of the tour. Sultan Birding Tours Indonesia can accept no responsibility for losses or additional expenses due to delay or changes in air or other services, sickness, weather, strike, war, quarantine, or other causes. All such losses or expenses will have to be borne by the passenger, as tour rates provide for arrangements only for the time stated. Baggage is at the owner's risk entirely. The airlines concerned and their agents and affiliates are not to be held responsible for any act, omission, or event during the time passengers are not on board their aircraft
You can send your inquiry via the form below
Tour name: Birding Waigeo 6 days / 5 nights
Waigeo Birding, Waigeo birds photography & Waigeo birdwatching tour by Sultan Birding tour
Enjoy the Colorful birds of Waigeo Island in Raja Ampat Islands, taken during our Waigeo Birds Photography Tour, Waigeo Birding Tour, and Waigeo Birdwatching Tour by Sultan Birding Indonesia
Papuan Dwarf Kingfisher
Papuan Dwarf Kingfisher, Waigeo Island, Photo by Monal
Frilled Monarch ( Male )
Frilled  Monarch, Waigeo Island, Photo by Monal ( Mohamad Naliko ), Sultan Birding
Yellow-Breasted BoatBill
Yellow-breasted Boatbill, Waigeo Island, Photo by Monal ( Mohamad Naliko ), Sultan Birding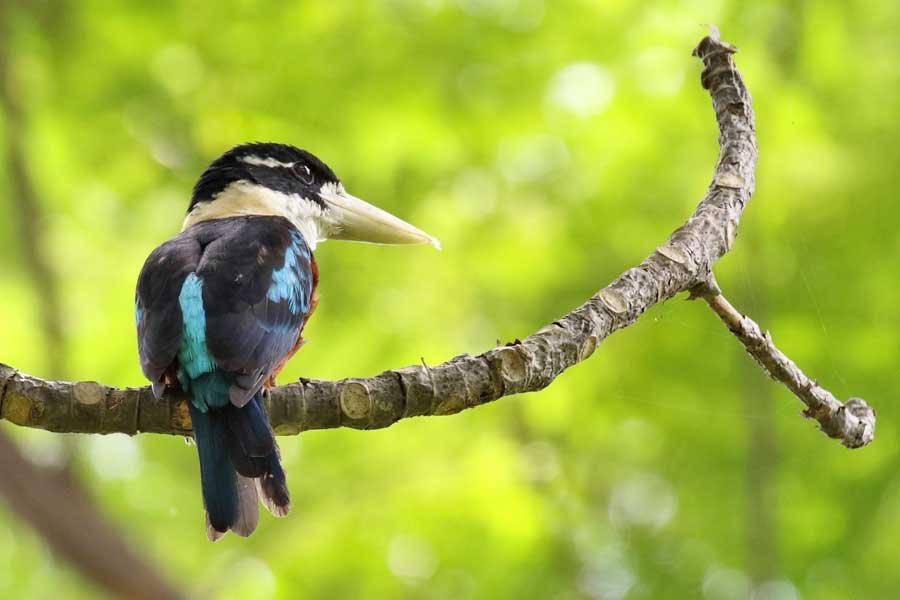 Rufous-Bellied Kookabura
Rufous-Bellied Kookaburra, Waigeo Island, Photo by Monal/Mohamad Naliko, Sultan Birding
black-capped lory
Black-Capped Lory, Waigeo Island, Photo by Monal / Mohamad Naliko, Sultan Birding
eclectus parrot
Electus Parrot (female), Waigeo Island, Photo by Monal/Mohamad Naliko, Sultan Birding
rainbow lorikeet
Rainbow Lorikeet, Waigeo Island, Photo by Monal/Mohamad Naliko, Sultan Birding
Papuan frogmouth
Papuan Frogmouth, Waigeo Island, Photo by Monal/Mohamad Naliko, Sultan Birding
beautifull fruit-Dove
Beautifull Fruit-Dove, Waigeo Island, Photo by Monal/Mohamad Naliko, Sultan Birding
wilson's bird of paradise
Wilson's Bird of Paradise, Waigeo Island, Photo by Monal/Mohamad Naliko, Sultan Birding
golden monarch
Golden Monarch, Waigeo Birding, Photo by Monal / Sultan Birding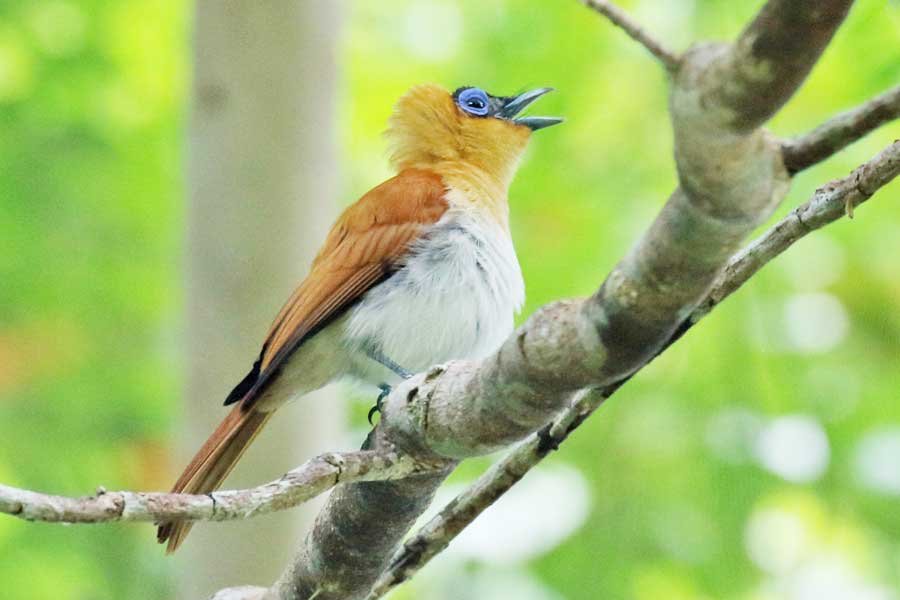 frilled monarch - female
This is female of Frilled Monarch, Waigeo Birding, Photo by Monal / Sultan Birding
red bird of paradise
This is male of the Redbird of Paradise, Waigeo Birding, Photo by Monal / Sultan Birding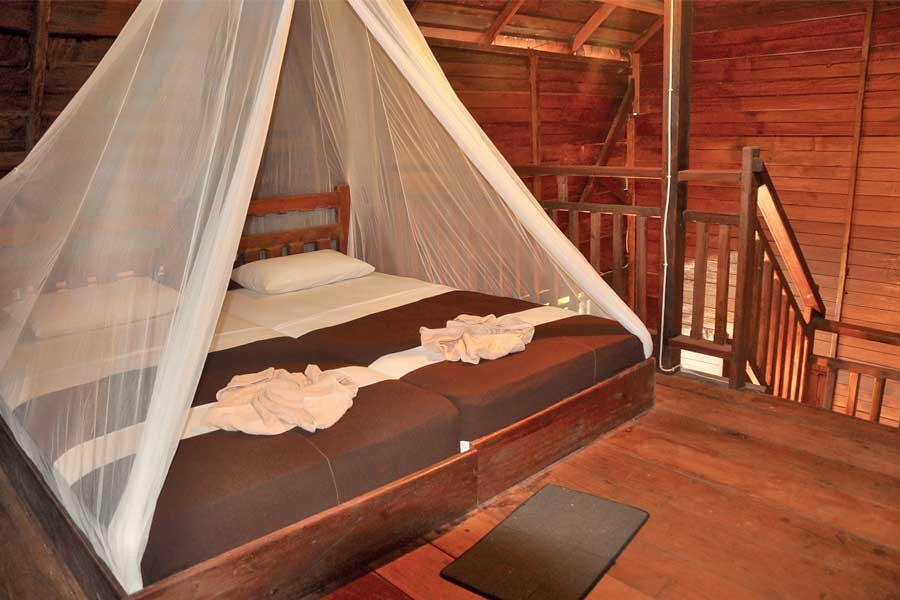 Room at Beach Resort Waigeo
Sultan Birding the first local birding tour operator in West Papua who most involved employee local people throughout the birding industry and has an impact for local benefit on Waigeo in Raja Ampat Islands West Papua. Sultan Birding company has a strong nature conservation ethic and provides environmental education and benefits to local communities in Waigeo Raja Ampat Islands.