Tangkoko - Tomohon Birding Trip
by Sultan Birding Tours Indonesia
If you would like to book the trip or need more information, please click the button below. We will be more than happy to help you planning your birdwatching to Tangkoko & Tomohon of Indonesia.
Contact Sultan Birding
Tangkoko – Tomohon Birding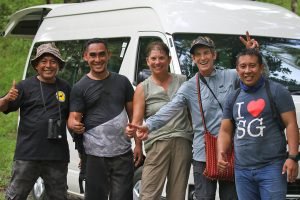 Join us for Tangkoko Tomohon Birding, Best of Sulawesi's Endemic Kingfishers including Lilac cheeked Kingfisher, Green-backed Kingfisher, Sulawesi Dwarf Kingfisher, Great-billed Kingfisher, Ruddy Kingfisher, Sacred Kingfisher, Blue-eared Kingfisher, Common Kingfisher, and Scaly-breasted Kingfisher and of course other Sulawesi's bird species to go for.
Sultan Birding the first local birding tour operator in Sulawesi who most involved employee local people through the Tangkoko Tomohon birding industry and has an impact on the local benefit on Tangkoko Nature Reserve and Tomohon highlands. Our company has a strong nature conservation ethic and provides environmental education and benefits to local communities.
BOOK NOW TANGKOKO TOMOHON BIRDING
GUARANTEE DEPARTURE 2021
June 9 – 14, space available
June 15 – 20, space available
June 21 – 26, space available
July 1 – 6, space available
July 13 – 19, 2021, fully booked
August 15 – 19, 2021, fully booked
Departure Date: ON REQUEST
June 9 – 14, space available
June 15 – 20, space available
June 21 – 26, space available
Price per person:
USD …. per person
Single room supplement: USD
To get the lowest quotation and custom birding tour, kindly please feel free to send us an email
MAKE A BOOKING
Minimum 2 persons in twin sharing room
Tour Packages included: Accommodation in twin sharing room, breakfast, lunch, dinner during in Tangkoko, Mineral Water, Daily park entrance fee, all land transportation, Boat for mangrove trip and bird guide fee
Not include in the price Lunch and dinner in Tomohon, Beverages, Camera fee where applicable, Personal expenses, Insurance, Tips and Porters
Meeting Point : Sam Ratulangi Manado Airport
Target Birds:
Destination: Tangkoko Nature Reserve and Gunung Mahawu on the highlands of Tomohon
Departure:
June 9 – 14, space available
June 15 – 20, space available
June 21 – 26, space available
July 1 – 6, 2020, space available
July 13 – 19, 2020, fully booked
August 15 – 19, 2020, fully booked
Duration: 6 days and 5 nights
Day 1: Manado Arrival
After your arrival in Manado airport Sulawesi, you will be transferred by car to Tangkoko takes 90 minutes to reach the guesthouse where we will stay for 3 nights. Dinner includes.
Days 2 – 3: Tangkoko Nature Reserve
This reserve on the eastern tip of the Minahassa Peninsula is one of Sulawesi's flagship parks, the excellent lowland jungle and mangrove forest providing superb birding site, The reserve is especially famous for kingfishers, having no less than eight resident species, of which four are endemic but remember that Tangkoko also has much more to offer than its kingfisher though and with the assistance of the skilled our local team, we will be search for Lilac cheeked kingfisher, Green-backed kingfisher, Sulawesi-dwarf kingfisher, Great-billed kingfisher, Red-bellied Pitta, Rudy kingfisher, Common kingfisher, Blue-eared kingfisher, collared kingfisher, Red-Knobbed Hornbill, Sulawesi dwarf Hornbill, Ochre-bellied boobook, Yellow-billed Malkoha, Bay Coucal, Lesser coucal, Sulawesi-Hawk eagle, Sulawesi serpent eagle, Black eagle, Black kite, Sulawesi cicada bird, Rusty-breasted cuckko, Sulawesi triller, Purple-winged roller, Ashy woodpecker, Sulawesi woodpecker, Sulawesi hanging parrot, Ornate lorikeet, Golden-mantled Racquetail, Blue-backed parrot, Grey-cheeked Green Pigeon, Black-naped Fruit dove, Green Imperial Pigeon, Grey-headed Imperial Pigeon, White-bellied Imperial Pigeon, Silver-tipped Imperial Pigeon, Sulawesi Black Pigeon, Stephan's Dove, Brown-cuckoo dove, PhilipineScrubfowl, Barred rail, Isabeline Bush hen. During our boat trip to the mangrove we may find other species; White-rumped Cuckoo-shrike, Common kingfisher, Great-billed kingfisher, Pink-necked green Pigeon, Osprey, Great Frigatebirds, Lesser frigatebirds, Pacific reef egret, common dollar bird, Striated heron, Little tern, Sacred and Collared Kingfisher, White-bellied Sea eagle, Brahminy kite and Purple heron. After spending much of the day birding but we have time also to see interesting mammals such as Black-macacanigra, Tarsier spectrum and bear cuscus in Tangkoko Park. Includes breakfast, lunch, and dinner
Day 4: Tangkoko to Tomohon
Morning birding around AMS hill and at 10 am heading to Tomohon for two nights stay. Lunch en-route and afternoon birding on GunungMahawu in Tomohon. Not include Lunch and Dinner
Day 5: Gunung Mahawu is a forested Volcano (1490 meters above sea level),
Inside the crater is a steaming, emerald-green lake ringed with yellow sulphur deposits. From the summit, you can see neighbouring Mount Lokon with its ever-present plume of smoke. On a clear day you can also see both the Sulawesi Sea on the west and to the Maluku sea to the east, GunungMahawu is located near the village of Rurukan where Sir Alfred Wallace lived for a while. Now GunungMahawu is one of the Important Bird and Biodiversity Areas ( IBAs ) in Asia by BirdLife International. In this birding place, we have some interesting Sulawesi endemic species, It is one of the easiest and most reliable sites in Sulawesi for the Scaly-breasted kingfisher- Actenoidesprinceps but please note this star bird of Sulawesi is very skittish and always hide so to spot them still need luck. Bird species at GunungMahawu and Tomohon; Scaly-breasted kingfisher, Lilac-cheeked kingfisher, Green-backed Kingfisher, Blue-eared Kingfisher, Collared Kingfisher, Sulawesi scops owl, Speckled boobook, Ochre-bellied boobook, Sulawesi babbler, Chestnut-backed Bush-Warbler, Sulawesi Blue-Flycatcher (split from Mangrove Blue-Flycatcher), the rare Rufous-throated Flycatcher, Pale-blue Monarch (split from Black-naped Monarch), Isabelline-bush hen, Barred rail, White-browed Crake, Sulawesi Myzomela, Island Flycatcher, Citrine Flycatcher, Grey-sided Flowerpecker, Yellow-sided Flowerpecker, Crimson-crowned Flowerpecker, Black-fronted White-eye, Mountain white-eye, Streak-headed Dark-eye, Mountain Tailorbird, Purple-winged Roller, Yellow-vented Whistler, Crimson Sunbird, Black Sunbird, Olive-back sunbird, Sooty-headed bulbul, Hair crested drongo, Yellow-billed Malkoha, Ashy Woodpecker, Sulawesi pygmy Woodpecker, Grey Wagtail, Yellow Wagtail, Chestnut Munia, Scaly-breasted munia, Rusty-breasted Cuckoo, Brown-cuckoo dove, superb-fruit dove, Sulawesi black-Pigeon, Sulawesi-hanging parrot, Black Eagle, Black Kite, Osprey, Spotted Kestrel, Peregrine Falcon. During our stay here also we have a great chance of finding Purple swamphen, White-browed crake, White-breasted waterhen, Common Moorhen, Javan pond heron on the Lake Tondano. Not include Lunch and Dinner
Day 6: Morning birding on Gunung Mahawu and then at 10 AM, we will transfer you to Manado airport for your next destination. Include Breakfast.
Important NOTE:
This trip can be extended to Halmahera for Ivory-breasted Pitta, Wallace's standard winged bird of Paradise, Common Paradise Kingfisher, Sombre Kingfisher, Beach Kingfisher, Variable Dwarf Kingfisher, Azure Kingfisher, and Blue & White Kingfisher.
Trip Report for Sulawesi, Tangkoko https://www.birdventures.com/2015TripReports/Sulawesi2015.html
Arriving in the early evening in Jakarta airport on Dec 13, part of our group sat waiting for our flight to Manado, Sulawesi. After an uneventful flight, we were met by Monal, our excellent local guide, and settled in for the night at the Novotel Hotel just 10 minutes from the airport. A late text indicated that the rest of the group would be late arriving the next day.

The next morning, several of us explored the hotel grounds and independently got several good species including the beautiful Buff-banded Rail. After breakfast, we departed for Tongkoko National Park – our destination for the next three nights. Approaching the NP we got our first views of both endemic hornbills; Red-knobbed and Sulawesi Dwarf, silver-tipped Imperial Pigeon, Gray-cheeked Green-Pigeon, distant glimpses of Golden-mantled Racquet-tails, endemic White-necked and Finch-billed Mynas, several Barred Rails and the beautiful Purple-winged Roller among others. In the late afternoon, we walked farther into the park and picked up additional species including Sulawesi Hawk-Eagle, Sulawesi Hanging-Parrot, Slender-billed Crow, great views of Yellow-billed Malkoha, Sulawesi Black Pigeon (White-faced Cuckoo-Dove), Isabelline Bush-hen and Sulawesi Babbler. Late that evening the rest of the group joined us!

The 15th was spent exploring Tongkoko. Hiking deep into the park we got crippling views of three of the five endemic kingfishers: the Sulawesi Dwarf, Lilac and Green-backed Kingfishers. Wow! Just before leaving the road/trail we also got a Black-naped Fruit-Dove, Ornate Lorikeet and a pair of the immense Ashy Woodpecker. We also got a pair of Tabon Scrub-fowl, Ruddy Kingfisher, and 2 beautiful endemic Rusty-backed Thrush. In the afternoon a wonderful slow boat-ride into the mangroves rewarded us with Great-billed Heron (on the beach), Gray-tailed Tattler, Pacific Reef-Egret, White-rumped Cuckooshrike, and crippling views of the endemic Great-billed Kingfisher.
The next day saw us return to the NP and we were rewarded with great scoped views of Vinous-breasted Sparrowhawk, Sulawesi (Red-bellied) Pitta, Pale-blue Monarch, and two endemic owls; Sulawesi Scops-Owl and the amazing Ochre-bellied Boobook. After 3 pm we again returned to the NP and got Bay Coucal, two Isabelline Bush-hens that most of the group managed to see, 100s of Gray-rumped Treeswifts flying along the beach, and both Great Eared Nightjar and Sulawesi Nightjar. The latter was heard only.

Dec 17 we departed the Tongkoko area, but not before a stop above the reserve to get some birds Green-backed Kingfisher, Tangkoko NP, North Sulawesifor the late arrivals (Ron, Terry, and Kay). We got the three Imperial-Pigeon species, and both hornbills and much, much more. We also got our last possible Myna in the area – Sulawesi Crested Myna. A Sulawesi Streaked Flycatcher (just new to science) was sitting atop a close tree and Black-fronted White-eye, Sulawesi Woodpecker, distant views of two Ivory-backed Woodswallows and a Sulawesi Triller added to make a great morning. From there it was onto Lake Tomohon. At the lake and roadside rice paddies, we got Wandering Whistling-duck, Chestnut Munia, Javan Pond-Heron, Yellow Bittern, Dusky Moorhen and the lovely White-browed Crake.

The next morning, Dec 18, found us up and early in the higher elevation forests on Mahawu Mountain where we got Sulawesi Myzomela, Yellow-sided and Sulawesi (Crimson-crowned) Flowerpeckers (all endemic), Superb Fruit-Dove, Speckled Boobook, Black-faced Munias, Collared Kingfisher and several Gray Wagtails.
Your Title Goes Here
Your content goes here. Edit or remove this text inline or in the module Content settings. You can also style every aspect of this content in the module Design settings and even apply custom CSS to this text in the module Advanced settings.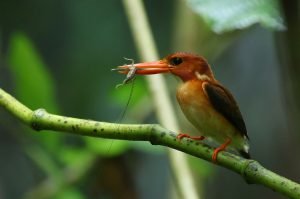 Sulawesi's Kingfisher rely on insects as well as fish and a few crabs to fill their platter. Darting with laser-like speed, they often leave no more than a blurred impression of shimmering blues, greens, and purples as they dive for a grasshopper or perhaps a small fish. Eleven species of Kingfishers have been recorded on Sulawesi and five of these are restricted to the island. Sulawesi's kingfishers provide a textbook example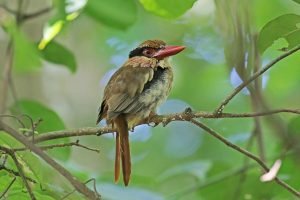 of how several species with similar needs partition the environment. Great-Billed Kingfisher, Halcyon melanorhynca is primarly a coastal inhabitant, plying the beaches and streams for small fish while the Scaly-breasted Kingfisher, Actenoides princeps, prefers montane forests and unobtrusively forages in the lower canopy for insects. Several species including the tiny, Sulawesi Dwarf Kingfisher, Ceyx fallax, the Green-backed Kingfisher. Actinoides monachus, and the Sulawesi Lilac-cheeked Kingfisher, Cittura cyanotis, overlap in the lowland forest. Here, the habitat is partitioned vertically, with species differing in perch and foraging height.