North Sulawesi Birding
by Sultan Birding Tours Indonesia
Sultan Birding Tours Indonesia offers a range of private and small group
birding tours throughout North Sulawesi cover Tangkoko birdwatching,
Tangkoko birding, Gunung Mahawu birdwatching,
Gunung Ambang birding, Maleo nesting ground,
Dumoga Bone National Park.
Contact Sultan Birding
North Sulawesi Birding
Best of North Sulawesi's Endemic birds with ten days birding covering hot birding sites including Dumoga Nani Wartabone National Park, Gunung Ambang Reserve, Maleo breeding Center, Gunung Mahawu Reserve, and Tangkoko Nature Reserve. North Sulawesi provides the adventurous with some of the richest ornithological experiences to be found anywhere in the world, for this one of the most biologically diverse and endemic-rich areas on earth.  We design this is a special itinerary for those who want to see the many exciting endemics of Sulawesi. During our trip, we will be birding on Wallacea's line which is so very different from that of mainland Southeast Asia. In this trip you will visit four of Sulawesi's fine forest reserve, North Sulawesi covering area of Tangkoko Nature Reserve, Gunung Mahawu Nature Reserve, and Dumoga Bone Park, Our exciting birding trip begins at Tangkoko Park. We will see our first exciting the wonderful lowland forest where Lilac cheeked kingfisher, Green-backed kingfisher, Sulawesi-dwarf kingfisher, Great-billed kingfisher, Ochre-bellied Boobook, Sulawesi scops owl, Sulawesi-hawk eagle, and highly-vocal Red-Knobbed hornbill. We will travel next to the endemic montane of Gunung Mahawu here we will have a chance to spot the Scaly-breasted Kingfisher, Isabelline bush-hen and much more. At Bogani Nani Wartabone National Park, Tambun and Gunung Ambang, we will hope to find the extraordinary Maleo as well as other exciting endemics including Matinan flycatcher, Speckled Boobook.
North Sulawesi Birding
Guarantee Departure
April, 2020
May, 2020
June, 2020,
July, 2020
August, 2020
Departure:
Price per person
2 -3 person USD
4 – 5 person USD
6 – 7 person USD
8 – 9 person USD
Single Room Supplement: USD
Making a Booking
Minimum 2 persons in twin sharing room
Packages include Accommodation in twin sharing room, Breakfast, Lunch, Dinner, Mineral water, All land transportation, Boat for mangrove trip in Tangkoko, Bird guide fee, daily park entrance fee.
Not included camera fee where applicable, Tips and Porter
Term and Condition Apply
Starting Point: Manado Samratulangi Airport, North Sulawesi
Finish Point: Manado Samratulangi Airport, North Sulawesi
Target Birds:
Destination:
Departure: ON REQUEST
Travel Time: 10 days and 9 nights
Physical difficulty: moderate to difficult
Focus: birding
Bird Photography: is the best, special the Sulawesi bird endemic
Walking condition: the walking ranges from easy to moderate, but there will be a few tough days in GunungAmbang in Dumoga and Temboan hill near Tangkoko Park
Type of Land Transport & Road: We will use minibus or cars. The road is some part in good condition and some part in bad condition. While for mangrove boat trip we will use a small boat.
North Sulawesi Birding Itinerary by Sultan Birding Indonesia
Day 1 Manado arrival-Tangkoko birding
The birding trip begins on your arrival time at Manado airport. Our first birds near Manado airport include Grey-rumped tree-swift, Brown-throated Sunbird, Grey-sided flowerpecker and Sulawesi scops owl. During three nights in Tangkoko, we will stay at a resort near the park entrance.
Day 2-3 Tangkoko Nature Reserve is famous for having no less than eight resident species, of which four are endemic and four are residents but remember that Tangkoko also has much more to offer than its kingfisher though.  Our  2.5 days here will provide an excellent chance to birding inside Tangkoko Park, AMS Lookout point and Mangrove; to spot more Sulawesi endemic birds and other more widespread species such as Lilac cheeked kingfisher, Green-backed kingfisher, Sulawesi-dwarf kingfisher,  Great-billed kingfisher, Red-bellied Pitta, Rudy kingfisher, Common kingfisher, Blue-eared kingfisher, collared kingfisher, Red-knobbed Hornbill, Sulawesi dwarf Hornbill, Ochre-bellied boobook, Yellow-billed Malkoha, Bay Coucal, Lesser coucal, Sulawesi-Hawk eagle, Sulawesi serpent eagle, Chinese sparrow-hawk, Black eagle, Black kite, Sulawesi cicada bird, Rusty-breasted cuckoo, Sulawesi triller, Purple-winged roller, Ashy woodpecker, Sulawesi woodpecker, Sulawesi hanging parrot, Ornate lorikeet, Golden-mantled Racquetail, Blue-backed Parrot, Grey-cheeked Green Pigeon, Black-naped Fruit-dove, Green Imperial Pigeon, Grey-headed Imperial Pigeon, White-bellied Imperial Pigeon, silver-tipped Imperial Pigeon, Sulawesi Black Pigeon, Stephan's Dove, Brown-cuckoo dove, Philippine Scrubfowl, Barred rail, Isabelline Bush hen. During our boat trip to the mangrove we may find other species; White-rumped Cuckoo-shrike, Common kingfisher, Great-billed kingfisher, Pink-necked green Pigeon, Osprey, Great Frigatebirds, Lesser frigatebirds, Pacific reef egret, common dollar bird, Striated heron, Little tern, Sacred and Collared Kingfisher, White-bellied Sea eagle, Brahminy kite and Purple heron. After spending much of the day birding but we have time also to see interesting mammals such as Black-Macaca nigra, Tarsius spectrum and bear cuscus in Tangkoko Park.
Day 4 Tangkoko to Tomohon birdwatching,
after the final morning birding in Tangkoko park, we will drive to the highlands of Tomohon for two nights stay. This afternoon we will begin our exploration of the Lake Tondano and Kayawu surrounding of Tomohon.
Day 5 Gunung Mahawu Birding
Mahawu is a forested Volcano (1490 meters above sea level), Inside the crater is a steaming, emerald-green lake ringed with yellow sulfur deposits. From the summit, you can see neighboring Mount Lokon with its ever-present plume of smoke. On a clear day, you can also see both the Sulawesi Sea on the west and to the Maluku sea to the east, Gunung Mahawu is located near the village of Rurukan where Sir Alfred Wallace lived for a while. Now Gunung Mahawu is one of the Important Bird and Biodiversity Areas Area ( IBAs ) in Asia by BirdLife International. In this birding place, we have some interesting Sulawesi endemic species, It is one of the easiest and most reliable sites in Sulawesi for the Scaly-breasted kingfisher Actenoides Princeps but please note this star bird of Sulawesi is very skittish and always hide so to spot them still need luck. Bird species at Gunung Mahawu and Tomohon; Scaly-breasted kingfisher, Lilac-cheeked kingfisher, Green-backed Kingfisher, Blue-eared Kingfisher, Collared Kingfisher, Sulawesi scops owl, Speckled boobook, Ochre-bellied boobook, Sulawesi babbler, Chestnut-backed Bush-Warbler, Sulawesi Blue-Flycatcher (split from Mangrove Blue-Flycatcher), Pale-blue  Monarch (split from Black-naped Monarch), Isabelline-bush hen, Barred rail, White-browed Crake, Sulawesi Myzomela, Island Flycatcher, Citrine Flycatcher, Grey-sided Flowerpecker, Yellow-sided Flowerpecker, Crimson-crowned Flowerpecker, Black-fronted White-eye, Mountain white-eye, Streak-headed Dark-eye, Mountain Tailorbird, Purple-winged Roller, Sulphur-bellied Whistler, Crimson Sunbird, Black Sunbird, Olive-back sunbird, Sooty-headed bulbul, Hair crested drongo, Yellow-billed Malkoha, Ashy Woodpecker, Grey Wagtail, Yellow wagtail, Chestnut Munia, Scaly-breasted munia, Rusty-breasted Cuckoo, Brown-cuckoo dove, superb-fruit dove, Sulawesi black-Pigeon, Sulawesi-hanging parrot, Black Eagle, Black Kite, Osprey, Spotted Kestrel, Peregrine Falcon,  Chinese-sparrow hawk, Japanese sparrow hawk. During our stay here also we have a great chance of finding Purple swamphen, White-browed crake, White-breasted waterhen, Common Moorhen, Javan pond heron on the Lake Tondano.
Day 6 Tomohon birding– Kotamobagu
After spending birding in the highlands this morning we are drive to kotamobagu, a small town located on the western part from Manado.
Day 7- 8 Bogani Nani Wartabone park birdwatching
Much the forest around Dumoga Bone Nani Wartabobe National Park has been cleared and large numbers of people have settled in the park recent year. Our main target here is unique and strange of Maleo bird in Maleo nesting ground and one morning we will birding at Gunung Ambang.
Day 9: Kotamobagu – Birdwatching Gunung Ambang – Manado
We shall leave early morning at 5 am to Gunung Ambang, drive about one hour to the location. Here we will hike to find some Sulawesi's bird endemic. Lunch at a local house then after that we will depart to Manado for overnight stay.
Day 10: Manado Birding– next destination
Morning birding around the hotel then transfer to the airport for your next destination. End.
Kindly please contact Sultan Birding Indonesia
Birdwatching North Sulawesi, Birding North Sulawesi, Birding Tangkoko, Birdwatching Tangkoko, Birding Gunung Mahawu, birdwatching Gunung Mahawu, Bird photography North Sulawesi, Birdwatching Dumoga bone, birding dumoga bone, birdwatching Gunung ambang, birding Gunung ambang, birdwatching Manado, Birding Manado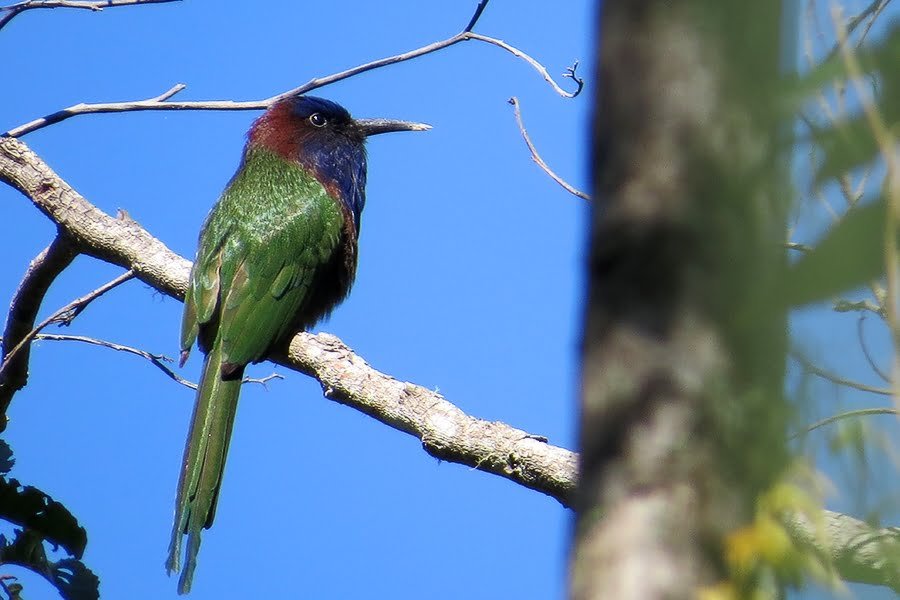 Purple bearded bee-eater
The purple-bearded bee-eater is a colourful long bird with a long tail, long slender decurved beak and rather rounded wings. It is 25–26 cm (10 inches) long. The purple-bearded bee-eater or Celebes bee-eater (Meropogon forsteni) is a near passerine bird in the bee-eater family Meropidae. It is an endemic resident on the island of Sulawesi, Indonesia. This species is often seen in clearings inside dense forest
Maleo
The maleo ranges from 55–60 cm long with blackish plumage, bare yellow facial skin, reddish-brown iris, reddish-orange beak, and rosy salmon underparts. The crown is ornamented with a black helmet casque. The greyish blue feet have four long sharp claws, separated by a membranous web. The sexes are almost identical with a slightly smaller and duller female. Juveniles have largely brownish and paler heads with short blackish-brown crests and browner upperparts