Nimbokrang Birding - Papua
by Sultan Birding Tours Indonesia
Waigeo Birding Tours
Arfak Birding Tours
Nimbokrang Birding Tours
Biak Birding Tours
Malagufuk Birding Tours
Sorong Birding Tours
Baliem Valley Birding Tours
Numfour Birding Tours
Kofiau Birding Tours
Tambraw Birding Tours
Contact Sultan Birding
Nimbokrang Birding
Sultan Birding is the first local birding tour operator in West Papua who most involved employees, local people, through the Nimbokrang birding industry and has an impact on the local benefit on Nimbokrang lowland in Papua. Sultan Birding company has a strong nature conservation ethic and provides environmental education and benefits to local communities in Nimbokrang Jayapura
Sultan Birding Tours offer you the birding to Nimbokrang Papua and link to all parts of West Papua of Indonesia. Kindly please let us know how many days you plan to visit Nimbokrang and we will try our best to make the program that suits with your expectations. We run the trip from four days trip to seven days trip but it can be short or longer depends on your time. Please read these conditions carefully, they incorporate the basis upon which bookings are accepted by sultan-birding.com
Get More to Save and Avoid Double Spend, Let Sultan Birding plan your trip to the lowland of Nimbokrang Birding in Jayapura Papua. You will always get the lowest quotation from us as you come directly to the first-hand local birding tour operator, and we quote your trip in general not sector per sector and avoid a day to wait, as the Sultan Birding will immediately process every request FIRST COME – FIRST SERVE. You can compare our service with all those in our industry level. Sultan Birding the first local birding tour operator in West Papua who most involved employee local people throughout travel industry and has an impact for local benefit in Nimbokrang
Customer Service, We know how important every point of our client's need, this is why our English Speaking customer service is standing by at WhatsApp number +62 812 4404 882 at any time in every day to help emergency and last minutes request
Find the Way to Minimize Your Time and Cost, Holiday Makers, Travelers & Interneter confused with too many unreliable birding tours offer on the internet. Some service providers listing un-inspected birding tours, birding package and services available without knowing it in detail, so it rises large numbers of questions and getting very limit accurate information. But we guarantee you or your client's personalized assistance and accurate information from the local birding expert. Anytime we respond to your inquiry we always mention the name of our staff in-charge to take care of you.
Please come and join us Birding in Nimbokrang, Birdwatching Nimbokrang, Nimbokrang Birding…..
Nimbokrang Lodge by Sultan Birding
In 2016, I visited Nimbokrang to survey the location of the birds of paradise after in Raja Ampat. At first, there was no guesthouse or lodge in Nimbokrang like in Arfak. The first time I came, I was staying at a local restaurant that was willing to give me a room to stay. after observing and also seeing the situation, at that moment I thought of inviting the owner of the restaurant to build several rooms since there was still an empty land behind his restaurant. In
the end we agreed to work together to build a guesthouse on his land. I invested all equipment in the guesthouse starting from the bed, Air condition and hot water shower.  Until now, the guesthouse that we built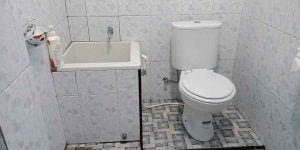 is used to welcome Sultan Birding guests. we are very happy to be able to help local people by giving them a way to increase their economic income. This also makes the facilities we provide to our guests in accordance with the standards we have set, Sultan Birding is providing a comfortable place to stay while birding in Nimbokrang Jayapura Papua. the meals are also very good here cook by the local from Java at the restaurant just nearby.
Birding in Nimbokrang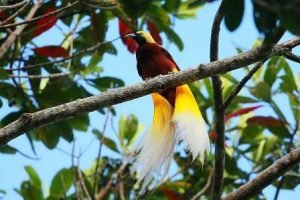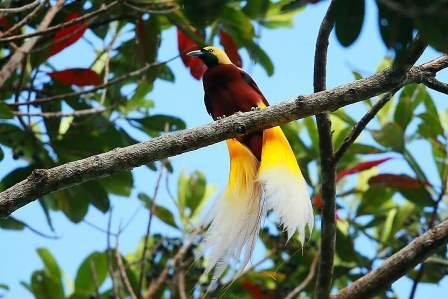 Nimbokrang is a transmigration settlement 2 hours drives from Jayapura into West Sentani. It is a good base for exploring the bird-rich lowland alluvial forest at the base of the Cyclops Mountains. Forest around Nimbokrang is being cleared for agriculture, huge areas remain intact and the roads and side paths provide access into the forest depths.  Nimbokrang is a home for some of birds-of-paradise species like King Bird of Paradise, Lesser Bird of Paradise and Twelve-wired Bird of Paradise. In Nimbokrang you can see also kingfisher here such us Yellow-billed Kingfisher, Rufous-bellied Kookaburra, Hook-billed Kingfisher and Shovel-billed Kingfisher. Other species like Shining Flycatcher, Greater and Lesser Black Coucals, Salvadori's Fig Parrot, Pale billed Sicklebill, Victoria Crowned Pigeon, Rainbow Beeater, Rainbow Lorikeet, Red-flanked Lorikeet, Red-cheeked and Eclectus Parrots, Brown and Black-capped Lories, Sulphur-crested Cockatoos, Buff-faced Pygmy Parrots and also Papuan Hornbill enrich the diversity of bird species in Nimbokrang.