Malagufuk Sorong - Papua
by Sultan Birding Tours Indonesia
Waigeo Birding Tours
Arfak Birding Tours
Nimbokrang Birding Tours
Biak Birding Tours
Malagufuk Birding Tours
Sorong Birding Tours
Baliem Valley Birding Tours
Numfour Birding Tours
Kofiau Birding Tours
Tambraw Birding Tours
Contact Sultan Birding
Guest's Comment, Trip on 20 – 23 Oct 2019
Three of us—two from the US and one from Australia—recently took a two-week trip to West Papua and Papua. We were guided expertly by Monal, who not only knows the birds but shows great care for those on the tour. We visited three sites–lowland forest at Malagufuk, Malagufuk was reached after an hour of driving, then about 2 hours of walking through the wet forest, birding all along the way. The facilities there were simple but totally adequate and were located in the middle of excellent forest habitat—different habitat than we would see on the rest of the trip. Local guides were good, the food very good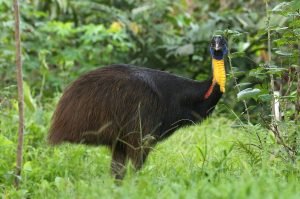 and the birds even better. Highlights included five birds-of-paradise displaying, a juvenile northern cassowary, black lory, and red-breasted paradise-kingfisher. Two of us had traveled with Monal two years earlier, so we knew already how well he operated his tours. Monal and his staff did an excellent job arranging the tour details and truly taking care of us as birding clients. We especially appreciated how well Monal integrated the local guides and drivers into the tours, treating them with respect, which added to the total experience for us. We look forward with great anticipation to the next tour we take with Monal and Sultan Birding Tours. From Mr. Robert N. Wiedenmann
MALAGUFUK WEST PAPUA OF INDONESIA
Now its time for those of you who really want to achieve bird of paradise dream: visit West Papua of Indonesia, home of some of the most beautiful and bizarre birds of the world. the seldom visited lowland forests of Malagufuk! Malagufuk is a small community living in the Klasow valley an, in fact, lowland forest where hunting has stopped, it's about 60 KM from Sorong. It's worth to visit it, Although the area shares several species with the well known Nimbokrang region but a visit to this remote location to find lowland specialties.
Key species in Malagufuk lowland forest
New Guinea Bronzewing, Hook-billed kingfisher, Yellow-billed kingfisher, Blue-black Kingfisher, Magnificent Riflebird, Red-breasted Paradise Kingfisher, Black Lory, Papuan Nightjar,  the King bird-of-paradise, Lesser bird of paradise and Twelve-wired bird of paradise, Large Fig-Parrot, Northern Cassowary, Western Crowned-Pigeon, Blue Jewel-babbler, Thick-billed Ground-Pigeon, Green –naped Pheasant Pigeon.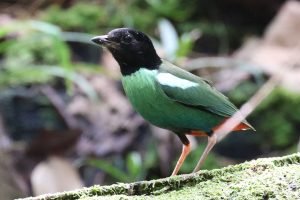 We are the first local birding tour operator in West Papua who most involved employee local people throughout the birding industry and has an impact on the local benefit on Malagufuk Village in West Papua. Sultan Birding company has a strong nature conservation ethic and provides environmental education and benefits to local communities in Malagufuk. We are a local birding tour operator who has been arranging Sorong Malagufuk West Papua birding programs for birdwatchers and bird photographers from around the world to West Papua of Indonesia to watch and photographs bird-of-paradise. Our services are ranged from medium to high category in lodging and meals depending on your needs. We provide packages including all services from your arrival until your departure from Sorong and Malagufuk West Papua of Indonesia. We help you to set the ideal itinerary considering your main requirements as well as the birds you want to watch during your journey in West Papua. We also provide transportation and a knowledgeable birding guide who will take you to the specific birding spot. Let us know the interests of your birding journey to Malagufuk in West Papua, and we will be glad to advise and assist you in planning the itinerary that suits better to fulfill your expectations.
For those of you who really want to visit Sorong and Malagufuk West Papua and really want to see your dream bird, Bird-of-Paradise, kindly please feel free to send us an email and we will help you to arrange your birding trip to Sorong and Malagufuk West Papua. We are specialized for Sorong and Malagufuk bird photography, Malagufuk birdwatching, Birding Sorong, Malagufuk birding.
Our birding in West Papua running from January to December with destination to Waigeo island, Nimbokrang, Sorong, Malagufuk, Biak Numfour island. While birding in Arfak Mountains we run from mid-June to mid-November during the year.
What to bring?
Waterproof binoculars of about 8-power are best for maximum light-gathering in the shades of the forest.
A tripod-mounted spotting scope (telescope) is valuable in open habitats along roadsides, especially for birds in the canopy.
A lightweight digital sound recorder, with a speaker suitable for playback and a directional microphone, greatly aids in learning vocalizations and luring shy vocal species into view
Loose-fitting, lightweight clothing and a hat with some sort of visor to shield the eyes from sun or rain.
It is often very cool at dawn but hot at midday, wearing layers that can be easily removed.
Loose long pants and lightweight, good quality walking boots are often the most comfortable combination. Conditions in the mountains are much cooler, so prepare to keep warm.
Insect repellent is required in some localities.
A lightweight poncho or rain jacket. It is sometimes useful to carry a larger umbrella.
Contact Sultan Birding for Waigeo Birding Tours, Arfak Birding Tours, Nimbokrang Birding Tours, Biak Birding Tours, Malagufuk Birding Tours, Sorong Birding Tours, Baliem Valley Birding Tours, Numfour Birding Tours, Kofiau Birding Tours, Tambraw Birding Tours, West Papua hot birding destination.