Biak Birding - Papua
by Sultan Birding Tours Indonesia
Waigeo Birding Tours
Arfak Birding Tours
Nimbokrang Birding Tours
Biak Birding Tours
Malagufuk Birding Tours
Sorong Birding Tours
Baliem Valley Birding Tours
Numfour Birding Tours
Kofiau Birding Tours
Tambraw Birding Tours
Contact Sultan Birding
Guest's Comments; Birding Biak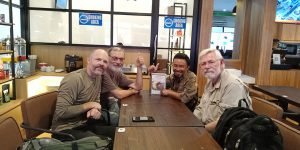 Three of us—two from the US and one from Australia— recently took a two-week trip to West Papua and Papua. We were guided expertly by Monal, who not only knows the birds but shows great care for those on the tour. The last three days were on Biak Island, which held a number of new species for us. Because of the late change, the hotel choice available to us was limited, but was adequate—and right on the ocean! Birding consisted of alternating driving with walking forest roads, which gave great views of special birds: Biak endemics, such as Biak coucal, Biak Scops-owl and Biak paradise-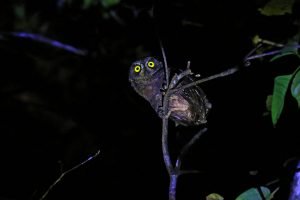 kingfisher. We saw more than a dozen island endemics (monarch, flycatcher, leaf-warbler, white-eye) and five others that likely will be split, as well as numerous parrots, lories, and lorikeets. We had great looks at Papuan frogmouth, and several species of fruit doves and imperial pigeons. Excellent dining was at local restaurants known to Monal and the local guide.
"Two of us had traveled with Monal two years earlier, so we knew already how well he operated his tours. Monal and his staff did an excellent job arranging the tour details and truly taking care of us as birding clients. We especially appreciated how well Monal integrated the local guides and drivers into the tours, treating them with respect, which added to the total experience for us. We look forward with great anticipation to the next tour we take with Monal and Sultan Birding Tours. from Mr. Robert N. Wiedenmann" November 2019
Birding Biak and Numfour
Biak is a land for most localized endemism of any island in the West Papua (New Guinea) Region. Situated Between the Bird's Head and the northern cape of the main body of western New Guinea, Geelvink (Cendrawasih) Bay features the oceanic Biak and Numfor island.  Biak and Numfor islands remarkable for their many endemic species such as Numfor Paradise Kingfishre, Biak Paradise Kingfisher, Biak Monarch, Biak Coucal, Elegant Imperial-Pigeon, Geelvink Pygmy-Parrot, Black-winged Lory, Biak Gerygone, Biak Whistler, Ochre-collared Monarch, Biak
Flycatcher, Smoky Robin, Biak White-eye, Long-tailed Starling and Moluccan Starling. Other species like Red-legged Brushturkey, Wattled Brushturkey, New Guinea Scrubfowl, Spotted Dove, New Guinea Bronzewing, Great Cuckoo-Dove, Pheasant Pigeon, Victoria Crowned-Pigeon, Pink-spotted Fruit-Dove, Zoe's Imperial-Pigeon, Brush Cuckoo, Papuan Frogmouth, Papuan Nightjar, Papuan Spinetailed Swift and many more settled down in Biak islands. The bird region also includes Yapen Island, a land-bridge island with no endemic species but many endemic subspecies.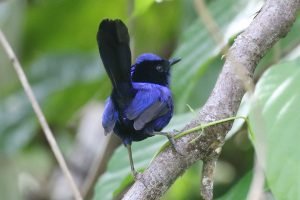 We are a local birding tour operator who has been arranging Biak Numfour Papua birding programs for birdwatchers and bird photographers from around the world to West Papua of Indonesia to watch and photographs bird-of-paradise. Our services are ranged from medium to high category in lodging and meals depending on your needs. We provide packages including all services from your arrival until your departure from Biak Papua of Indonesia. We help you to set the ideal itinerary considering your main requirements as well as the birds you want to watch during your journey in West Papua. We also provide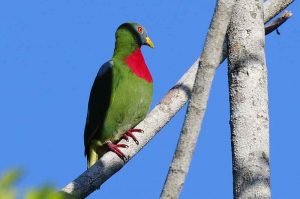 transportation and a knowledgeable birding guide who will take you to the specific birding spot. Let us know the interests of your birding journey to Biak Papua, and we will be glad to advise and assist you in planning the itinerary that suits better to fulfill your expectations.
For those of you who really want to visit Biak Numfour Papua and really want to see your dream bird endemic, kindly please feel free to send us an email and we will help you to arrange your birding trip to Biak Numfour Papua. We are specialized for Biak bird photography, Biak birdwatching, Birding Biak, Numfour birding. Kindly please send an email.