Biak Birding - Papua
by Sultan Birding Tours Indonesia
biak birding 5 days / 4 nights
Sultan Birding Price
Price starting from US$ 0000/person ( Min. 6 persons )
Includes 4 nights accommodation in Biak, Private Car during the trip, Daily breakfast, lunch, and dinner, Mineral water + Snacks, Park entrance fee, local ranger fee, landowner fee, birding site fee, and Bird Guide Fee.
Birding Biak and Numfour
Biak is the land for most localized endemism of any island in the West Papua (New Guinea) Region. Situated Between the Bird's Head and the northern cape of the main body of western New Guinea, Geelvink (Cendrawasih) Bay features the oceanic Biak and Numfor island.  Biak and Numfor islands remarkable for their many endemic species such as Numfor Paradise Kingfisher, Biak Paradise Kingfisher, Biak Monarch, Biak Coucal, Elegant Imperial-Pigeon, Geelvink Pygmy-Parrot, Black-winged Lory, Biak Gerygone, Biak Whistler, Ochre-collared Monarch, Biak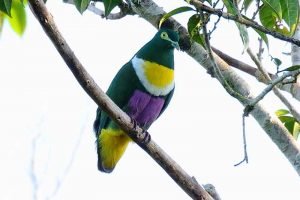 Flycatcher, Smoky Robin, Biak White-eye, Long-tailed Starling, and Moluccan Starling. Other species like Red-legged Brushturkey, Wattled Brushturkey, New Guinea Scrubfowl, Spotted Dove, New Guinea Bronzewing, Great Cuckoo-Dove, Pheasant Pigeon, Victoria Crowned-Pigeon, Pink-spotted Fruit-Dove, Zoe's Imperial-Pigeon, Brush Cuckoo, Papuan Frogmouth, Papuan Nightjar, Papuan Spinetailed Swift, and many more settled down in Biak islands. The bird region also includes Yapen Island, a land-bridge island with no endemic species but many endemic subspecies.
BIAK BIRDING ITINERARY 5 DAYS / 4 NIGHTS
Day 1: Biak arrival, the transfer to the hotel.
Day 2, Day 3, and Day 4: Our Ultimate birding tour starts on the isolated island of Biak in Geelvink Bay, where the old Dutch colonial capital, Bosnik, was located. Much of the original forest which once covered this limestone island has been logged, but all of the nine endemic species can still be found in disturbed forest, including Biak Red Lory, Geelvink Pygmy Parrot, Biak Coucal, Biak Scops Owl, the beautiful Biak Paradise Kingfisher, Biak Black Flycatcher, and Long-tailed Starling, and if we are fortunate Biak Scrubfowl and the rare Biak Monarch.
Day 5: Hotel – Transfer to the airport.
DETAILS OF BIAK BIRDING TRIP 5 DAYS 4 NIGHTS
Location: Biak, Jayapura
Availability: Set Departure
Tour Type: Multi-Day Tour
Tour Focus: Birds
Group Size: Maximum 6 Pax
Duration: 05 Days / 04 Nights
Best Time: Throughout The Year
Pace: Challenging
Arrival In: Biak airport, Biak of Indonesia
Depart From: Biak airport,  Biak of Indonesia
What is included?
English Speaking Bird Guide
Mineral water, Snacks
Meals (breakfast, lunch, and dinner)
Hotel in Biak (Twin-Share room)
Entrances to Parks and Reserves
Local guides fee, Local ranger fee, birding site fee, landowner fee
Private Car during the trip
What is not included?
Insurance
Alcoholic Beverages
Airfare to Indonesia ( Jakarta or Bali )
Internal Airfare: Jakarta – Biak and Biak – Jakarta
Laundry
Tips
All personal expenses that are not mentioned on the items above.
Any kind of expenditures incurred due to flight cancellation/delays or due to other causes beyond our control.
Payment Term and Condition
We require a minimum of 50% deposit payment to confirm your booking, we cannot guarantee your booking until this has been received. Bookings will be held for 7 days to allow the client time to send a deposit payment. We reserve the right to release the booking if the deposit is not received within 7 days of the booking being made. Changes of dates to bookings after the deposit has been made can be done but will be subject to availability.
Cancelation: Deposit payment No Refund, No show – full payment charge.
Full Payment, The full payment will be required at least 30 days prior to your date of arrival. The invoice amount has to be paid in full, net of all transfer costs and bank charges.
TYPE OF LAND TRANSPORTATION & ROAD
We will use a car. The road is some part in good condition and some part in bad condition.
BIRD GUIDE
This trip will be provided with an English speaking bird guide during the whole trip and a local guide (who owns/guard the land) for each place in Biak
INFO TRAVEL REQUIREMENTS
A valid passport is required; the passport must be valid for at least six months past your intended stay. Visas on arrival in Indonesia can be obtained for tourists from the US, Canada, UK, Australia, New Zealand, South Africa, and EU countries for stays of under 30 days. There is a fee for this, payable in cash (in US Dollars). Travel requirements are subject to change; we recommend double-checking entry requirements six weeks prior to the tour or ask our office staff for help.
LIABILITY
Sultan Birding Tours Indonesia act only as agents for the passenger in regard to travel, whether by railroad, motorcar, motor coach, boat, or airplane, and assume no liability for injury, damage, loss, accident, delay, or irregularity which may be occasioned either by reason of defect in any vehicle or for any reason whatsoever or through the acts or default of any company or person engaged in conveying the passenger or in carrying out the arrangements of the tour. Sultan Birding Tours Indonesia can accept no responsibility for losses or additional expenses due to delay or changes in air or other services, sickness, weather, strike, war, quarantine, or other causes. All such losses or expenses will have to be borne by the passenger, as tour rates provide for arrangements only for the time stated. Baggage is at the owner's risk entirely. The airlines concerned and their agents and affiliates are not to be held responsible for any act, omission, or event during the time passengers are not on board their aircraft.
Three of us—two from the US and one from Australia— recently took a two-week trip to West Papua and Papua. We were guided expertly by Monal, who not only knows the birds but shows great care for those on the tour. The last three days were on Biak Island, which held a number of new species for us. Because of the late change, the hotel choice available to us was limited, but was adequate—and right on the ocean! Birding consisted of alternating driving with walking forest roads, which gave great views of special birds: Biak endemics, such as Biak coucal, Biak Scops-owl, and Biak paradise-kingfisher. We saw more than a dozen island endemics (monarch, flycatcher, leaf-warbler, white-eye) and five others that likely will be split, as well as numerous parrots, lories, and lorikeets. We had great looks at Papuan frogmouth, and several species of fruit doves and imperial pigeons. Excellent dining was at local restaurants known to Monal and the local guide.
"Two of us had traveled with Monal two years earlier, so we knew already how well he operated his tours. Monal and his staff did an excellent job arranging the tour details and truly taking care of us as birding clients. We especially appreciated how well Monal integrated the local guides and drivers into the tours, treating them with respect, which added to the total experience for us. We look forward with great anticipation to the next tour we take with Monal and Sultan Birding Tours
We are a local birding tour operator who has been arranging Biak Numfour Papua birding programs for birdwatchers and bird photographers from around the world to West Papua of Indonesia to watch and photographs bird-of-paradise. Our services are ranged from medium to high category in lodging and meals depending on your needs. We provide packages including all services from your arrival until your departure from Biak Papua of Indonesia. We help you to set the ideal itinerary considering your main requirements as well as the birds you want to watch during your journey in West Papua. We also provide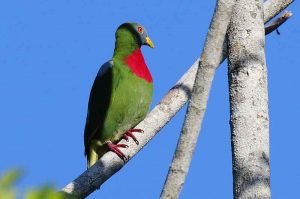 transportation and a knowledgeable birding guide who will take you to the specific birding spot. Let us know the interests of your birding journey to Biak Papua, and we will be glad to advise and assist you in planning the itinerary that suits better to fulfill your expectations.
For those of you who really want to visit Biak Numfour Papua and really want to see your dream bird endemic, kindly please feel free to send us an email and we will help you to arrange your birding trip to Biak Numfour Papua. We are specialized for Biak bird photography, Biak birdwatching, Birding Biak, Numfour birding. Kindly please send an email.